From the pages of Hellboy and Dark Horse's B.P.R.D. universe, Frankenstein Underground continues the story of this unique adaptation of the famous monster.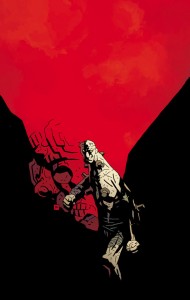 Frankenstein as featured in Underground is something of a more tragic figure than any incarnation we've seen before of author Mary Shelley's creation. Some things are the same as ever, Frank was built by the doctor in order to play god. Assembled from a series of parts from dead people, he nonetheless has transcended that origin.
Hunted for the monster that he appears to be, Frankenstein is so much more with a conscience and an intelligent mind that has struggled with who he is and what he might have been. It's after a period on ice though, and a run-in with Hellboy back in the 1950's, that he is once again introduced to the world. Only he finds it isn't all that much different than the one that he's used to.
This review will be somewhat spoiler-free, so if you've yet to hear anything about the first issue of the latest part of the Mignola-verse, don't worry about me ruining it for you. Basically, I'm just going to tell you whether or not to read it and what you can expect in terms of art and story. For the former, yes, you should read it. As for the latter, well, read on for why you should.
For starters, Mignola has crafted a character here that's not only powerful and able to take on evils that no normal man could, but one that's also vulnerable and just begs to be rooted for. The book is loaded up with the same elements that you'd normally find in an issue of Hellboy or B.P.R.D. in that the supernatural runs free and wild. There are monsters, evil beings galore, and a few characters that Hellboy fans have seen before. Though some of this could have used a little more exposition to fill in readers who aren't familiar with Mignola's universe of characters, it all comes together to form a terrific narrative, and one that any Hellboy fan will eat right up.
As for the art, penciler Ben Stenbeck has done a masterful job of bringing this very different yet hauntingly familiar edge of the Mignola-verse to life. His artwork is similar to that of Mignola himself in that it's very clean and carries a heaviness that's perfect for the tone of the series. Where it differs though, is that Stenbeck's work has more detail than Mignola usually works with, and has a sort-of realism to it that comes across really well. Simply put, if you like Mignola as an artist as much as you dig him as a writer, then you'll like the look of Frankenstein Underground.
Final Thoughts
It's actually hard for me to not spill the beans on any of the main story points in this book. If you've read any of my reviews in the past, then you know that I don't like to spoil the bigger points of stories as a rule, but for this comic it's particularly important not to as there's a ton of content all the way through that just begs to be discovered by the reader and the reader alone.
So instead of relating the story points, I'll just leave you with this: if you're a Hellboy fan, then you'll love Frankenstein Underground's first issue- go get a copy. And if you're not, but enjoy a horror-themed tale in general, then there's a very good chance that you'll still dig this book. Give it a shot when it hits retail on March 18th and who knows, you may just find yourself getting into a whole new universe of comics as well.