Hit that link to dive into even more of our recommendations for best to give and get this Holiday!
We're almost there… can you feel it? It's the 30th of November today, and that magical tree in NYC's Rockefeller Plaza is about to get its lighting switched on. Yes folks, it's Holiday time once again. Gifts? Yep, you'll probably need some. You'll probably want to get some too.
Let's see if we can help out with that.
Goodies for readers and tech-heads
This is part two of our Holiday Gift Guide here in 2016, and it's a good one. Now, I know that books aren't really what jumps to mind when the majority of you think of cool stuff to get. Bear with me though, as there's some really awesome stuff out there for fans of pretty much… everything.
Art books, novels, graphic novels, and visual histories aplenty have all made our list. If you dig cool stuff, you'll want to check them out.
As for the gadgetry portion of today's show, well I think that's kind of self-explanatory. Oh my do we have some cool stuff lined up. Start the scrolling friends!
Art Books
The Art of Dishonored 2
The book has some spelling errors (honestly found 2) but the art is superb and layout is wonderful. If you are a big fan of Dishonored, want to support the studio or love fine video game art buy this book!

Our score: 87%

The Art of Metal Gear Solid V
Is The Art of Metal Gear Solid V a worthwhile buy? Definitely. It's one of the best artbooks that I've ever read so definitely get this if you love art, Metal Gear Solid or both. It's definitely a worthwhile purchase!
Our score: 90%
The Art of Battlefield 1
I truly enjoyed looking at the beautiful Battlefield 1 artwork in this new art book, and admiring talent of the artists who were involved with development and production of the game. This book is aimed toward the super fan of Battlefield 1 yes, but also the video game pop culture enthusiast in general. It's definitely the type of book that would go well on the coffee table of a gaming room.
Our score: 87%
The Art of Tom Clancy's The Division
I've never played Tom Clancy's The Division, but this book makes me want to!
Our score: 94%
Novels and Graphic Novels
Visual Histories
Gadgets
Who doesn't dig a cool little gadget or two? Or ten. Whatever, the point is that gadgets are fun to get, and we've got a few awesome selections here for you. Just be aware that, unlike what we've recommended above, most of the stuff below doesn't have a review here on BG.
We're not really a 'gadget' site, you dig? That doesn't mean that we don't take a look at the occasional pair of headphones or even a drone or two. It's just that it's not our focus. Still though, we pride ourselves on knowing what's cool, and I think we hit the mark on this stuff.
So scroll on and enjoy…
Puro Sound Labs IEM 100 Headphones
I liked the IEM100's from Puro way more than I thought I might. After blasting music most of my life, I have to admit that they did take some getting used to, but the quality and piece of mind that they give is worth it.
Our score: 83%

KontrolFreek Galaxy and Inferno controller enhancers
Both sets of stick-extenders offer enhanced control and comfort, though the Galaxy set takes the top billing for those who are strictly-FPS gamers.
Our score: 92%
Air Hogs Connect Mission Drone
This little beauty allows would-be drone pilots to fly a small drone via their smartphone or tablet. Want more than just flight? There's an included mat that'll project a an AR landscape through your device's screen.Check out the video below to see it in action.
Our score: *review incoming*
Knight Rider K.I.T.T. USB Car Charger
Yes, this is exactly what it sounds like. It looks like KITT's visual interface from the legendary 80s show – Knight Rider. Just pop it into your car's power outlet and you can plug your USB-chargable stuff into it.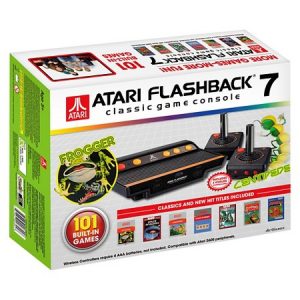 'Flashback' Gaming consoles
I know what you're thinking, 'Where am I gonna find a NES Classic?!' But the thing is, I'm not just referring to Nintendo's impossible to find little console. Atari, ColecoVision, Intellivision, and even Sega Genesis flashback consoles are available and all have their own degrees of coolness. You know, if you're not strictly a Nintendo nut. 'Cause if you are, you're probably out of luck.
Smartwatch
There are a ton of different varieties here, with different functionality. So it's best to really dig into what you might need before you buy (or ask for) one. Personally, I have an Android-powered watch and an Apple Watch and love both of them for different reasons. And yes, the 'fad' has died down, but smartwatches still offer a good deal of bang for your gifting buck.
Oculus Touch controllers
Warning – this one's only good if you've already got an Oculus Rift headset. If you do though, then you'll probably want a set of the 'touch' controllers for it. Yep, the Rift has finally caught up to the Vive in terms of control.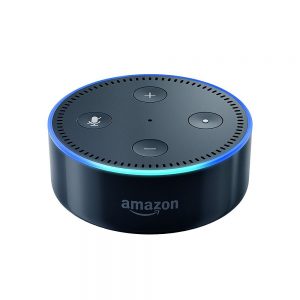 Amazon Echo Dot
A little machine controlling your automated home systems, playing music, and even ordering some Dominos might seem like the future. That's not even close though, as the Amazon Echo Dot uses Alexa to do just that and a lot more. Plus it's way more compact than the standard Echo.
Apple TV
The Apple TV has evolved a good deal in its time, and it just keeps on getting better. The current model can access multiple television options, so many that you just might be able to finally cut that cord. Oh, and it plays games too. I guess.
Custom Xbox One controller
This probably could have gone into the 'gaming' portion of things, but it's kind of a gadget so just go with it. It's an awesome gadget too, but probably not how you'd usually expect. There's little that differentiates this custom-job from the standard Xbox One pad, except that you can get it in nearly any color variation that you like. A customizers dream? You bet.
Wrapping up (again)
Whew! That's a ton and a half of the good stuff right there! A little something for everyone, and a some things that will fit for almost anyone. And not too much that'll break the bank either.
We've got one more day to go though, so make sure you're back here on Friday afternoon for part three of our 2016 gift guide – Toys 'n' Tabletop Games