Neil Gaiman returns for a tale of trolls in Troll Bridge.
Good time of day all, I'm back with a brand new lease on life. I hate it. Let's talk about some comics! Hopefully most of you will remember the format of my reviews, because I am changing that.
Not permanently, but this review of Troll Bridge requires me to use a different method. Normally I would organize my glorified opinions into sections (Art, writing, height, paper smell, etc.), but this time is different.
I am going to recap the story and give a conclusion in the beginning, then dedicate the review to my reasoning for the score and conclusion. This way, you lazy kids get the score and conclusion early, and the stupid ones get to watch me ramble. Let's go!
The story of Troll Bridge is that of a small child living in the country side. While exploring, the child comes across a bridge, and decides that the only sensible choice is to check it out. Obviously, this works out splendidly, and the boy meets the titular troll. The troll states that he would like to eat the boy, but the child convinces him to wait until he grows up a bit.
Troll Bridge pretty much continues along this train track, eventually leading me to my conclusion. I know it is weird to start with this, but I feel it needs to be said first.
Regardless of whether this sells you on the comic, and regardless of the score- read this comic. This book is very interpretive and weird, so your experience is going to be different to mine. I had some problems with it, but overall I enjoyed it.
Reasoning
You see, the reason that I decided to do this whole reasoning thing, is that I needed an entire day to recover from reading Troll Bridge. Not because it was bad, but because I knew it had a message that I simply was not getting.
I could not get the symbolism behind it all, and I was severely confused about that whole experience. There are several points in the story where I even felt like I had skipped over something, maybe turned over two pages at once. And couldn't quite follow the exact details of the plot. Even now, I struggle to remember the main character's name or nickname or if he even had a name in the first place.
This comic is clearly not meant to be read as a comic, so I feel it necessary to prepare you guys for reading this in an enjoyable way. Once I took a step back and looked at it in the same way as a novella, it all began to make a bit more sense.
Comics need both images and story to convey their plot, but this comic doesn't seem to be aware of that. It is truly written like a novella, and was perhaps originally meant to be one.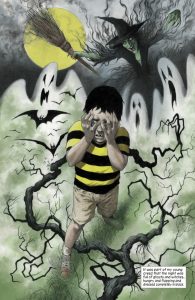 I mean that the author includes descriptions of a lot of things within the narration of the story. For instance, when the child meets the troll, the author begins describing him as well. This can be chalked up to the person telling this story not being able to project images on their own, but still seems wholly unnecessary.
I say this because the art here is like that of an oil painting. It is exquisite to look at, truly, and pays incredible attention to detail. Every image is artistic and brilliant, giving a clear indication of what I am looking at while hiding that ever present symbolism of something in plain sight.
Troll Bridge was an incredibly enjoyable experience purely because the art and writing were so expertly done. However, as mentioned earlier, there is clearly symbolism here. The writing and art come together to represent this idea that I simply could not see.
Troll Bridge
Release Date: October 5th, 2016
Publisher: Dark Horse Comics
Writer: Neil Gaiman, Colleen Doran
Artist: Colleen Doran
Cover Artist: Colleen Doran
Open to interpretation
Painted beauty - 95%
A winding and oddly individualized tale - 90%
To end off here, I would like to reaffirm my stance that this is a comic worth reading. It left a bitter taste in my mouth afterwards -at first- because I felt like I had been stiffed. I had read this entire thing and did not find any indication to what it means. But then I realized that this needs to be enjoyed artistically, and therefore interpreted. Then I had a ton of fun figuring out what this story meant to me. Perhaps that does not appeal to some of you, but this comic was a pleasure to read regardless of its flaws.