Many people will know of Frank Miller from his graphic novels and comic books such as Sin City, Daredevil: Born Again, The Dark Knight Returns, and 300.

Sin City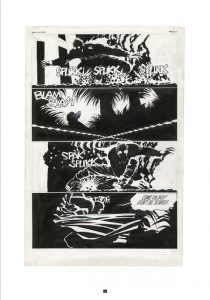 The film adaption of Sin City earned a Palme d'Or nomination, and he has received every major comic book industry award. It is perfectly fitting that his work is presented in such rare form: original works taken from Miller's personal archive.
The book is hardcover, consists of 226 pages of 15" x 21 1/2" beauty, housing the entire Sin City: The Hard Goodbye storyline, uncut. Including an introduction from Robert Rodridguez, and even an interview about his history and artistic process.
The Hard Goodbye
Here is a bit of a rundown of The Hard Goodbye. If you have seen the Sin City film or read the graphic novel previously, then you know what is coming.
We follow our protagonist Marv, a 7-foot-tall, heavily-scarred fella who has no issues with hitting first, and asking questions later. Marv spent the evening with Goldie, a mesmerizing prostitute, only to wake up and realize Goldie had stopped breathing. Fleeing the cops, Marv locates a few thugs that he can get answers out of. These thugs lead Marv to a priest, who leads him to a farm outside of town. Once at the farm, Marv finds Kevin. Kevin is a ward of the Roark family, who are very influential.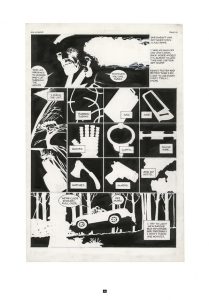 Marv gets knocked out, and finds himself locked into a basement with his parole officer, Lucille. Lucille fills Marv in on what kind of a person Kevin is: a mute and cannibalistic serial killer. Marv and Lucille break out of the basement, only to find themselves on the recieving end of a dirty police squad. Fast-forward through some gunfire and more than a few drops of blood. Marv has gone to work torturing Kevin for answers, with mixed results.  Kevin leads Marv to Roark, and the story finishes as dramatically as it began. To learn the specifics, you will have to pick up a copy.
The Look
Miller had been working for some of the big comic companies, covered some of the great franchises and wanted to strike out on his own. Wanted final say on all the details that mattered. Writing and illustrating his own novel. Striking a deal with Dark Horse Comics. All this is history today, but these could have been risky moves at the time. What if the black-and-white, now iconic style had been panned over? Twenty-five years later, Miller is an award-winning creator, and we are discussing a larger-than-life sample of his masterpiece.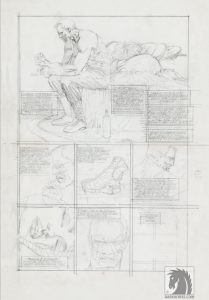 Curators Edition
What this curator's edition will net you is artwork Scanned from Miller's original artwork, in it's full scale glory. In his interview, Miller even goes on to talk details about this being his first solo endeavor, pointing out small diescrepencies. Pay attention and you can even spot the differences in pen weight, ink smudged by Miller's hand, and even the occasional liner note regarding page placement.
In conclusion, if you are a noir fan, a Frank Miller fan, or just like the style that Sin City presents, then you will enjoy the opportunity to see what Dark Horse has put together. Though you will have to act fast: These rare copies are limited to 500 worldwide, and signed by Frank Miller in pencil on a special tipped-in image not included in the regular edition.
If you are still reading, then you can pre-order your copy today for $275.00 US.
Noir Perfection
Noir Perfection - 100%
Frank Miller's work is one-of-a-kind. He is a master of his craft, and well deserving of Dark Horse's Curator Edition.