Once again Doctor Who brings his quirky style of problem solving to the American shores, in Doctor Who The American Adventures.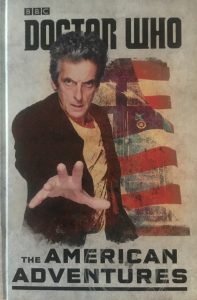 The Twelfth Doctor
It's nothing new for the Doctor to appear in all manner of places and situations. This time, the 12th Doctor is applying his unique brand of expertise to the American regions. If you are unfamiliar with Doctor Who, then this book may be a bit confusing at first. The Doctor, particularly the twelfth Doctor, is sarcastic and tends to come off as callous. He can stop an enemy cold in his tracks, but have no consideration for the feelings that may be hurt in the process. From the Oregon trail to futuristic space vessels, you never know where his sonic screwdriver may be useful.
Doctor Who The American Adventures
A family on the Oregon trail headed West awake one morning to find that the remainder of their caravan have left them in the night. Or have they?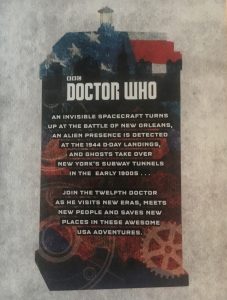 I was told that this book was aimed at ages 9 and up, and to be honest, I have no problem with that. The book is written well, and while it may be aimed at youth, I definately did not feel out of place reading it myself.
Whether we like it or not, Aliens have a way of showing up everywhere. This time around, he can be found among everything from weary travelers to laborers, and even the battlefield.
Imagine being a panhandler in 1849 California, when suddenly you begin to act strangely due to one of your findings. How about being blown off course during the 1846 Oregon Trail, only to find that you are not where you believe yourself to be. And then there are the subway tunnels of 1902 New York City. Imagine being chased off from work, by the spirits of recently missing friends and family.
The Traveling TARDIS
These are only a few of the setups of the six new stories for Doctor Who The American Adventures. 192 pages will breeze by before you know it with a copy in hand. You could say that the feeling of being a 'youth' book comes in the stories seeming a bit light. We still get a decent amount of action. It's just not quite to the length of what you may be used to if you are a fan of Doctor Who in other media.
For any Doctor Who fan, Doctor Who The American Adventures is a great score. The thrill of another adventure. Available just in time for the holidays.
Doctor Who The American Adventures
Age Range: 9 – 12 years
Hardcover: 192 pages
Publisher: PENGUIN GROUP (October 25, 2016)
TARDIS Adventures
Settings - 85%
Writing - 82%
Imagination - 89%
The Twelfth Doctor makes travelling through time and space exhilirating. From saving a small family to saving the world, you never know what the TARDIS will bring you into next.