Go deep into that Galaxy Far, Far Away with DK Publishing and Pablo Hidalgo's Star Wars Year by Year: A Visual History.
The saga that just won't quit
Star Wars tends to elicit a lot of emotion from its fans, but it's not limited to them alone. Now a multimedia empire, it's been around for so long at this point, that it's indelibly tied into real-world events. That's what's on display here in Star Wars Year by Year: A Visual History.
I have to say that I'm not familiar with this book, though the cover clearly states that it's an "updated and expanded edition". The first Star Wars Year by Year saw release in 2010, and covered everything up to there. As publisher DK is want to do though, they've revised and re-released it with a (spectacular) new cover and all-new info ending at this very year.
Just how much of what's here is new I'm not sure, since I haven't had any time with the original. So we'll be taking a fresh look at this one as though it's all original. One thing that's very clear though? To say that it's not your typical Star Wars volume is more than fair. Actually it's kind of a time capsule.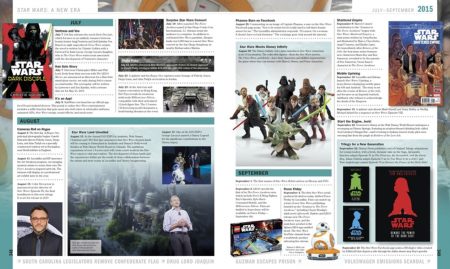 Star Wars Year by Year
Star Wars Year by Year: A Visual History chronicles the complete timeline of the Star Wars universe, but not from a fictional standpoint. There are plenty of books that have done that to death after all. What's here is a real-world view on the franchise itself, laid out in detail and year by year.
When you crack open the book, you'll find a big splash of Lucas and crew filming Mos Eisley in the original film. Flip past that and you'll get the table of contents. There you'll find that the book is split into six different sections. First up is Life Before Star Wars, followed by The Original Trilogy, and Between the Trilogies. After that, we get a little more modern with The Prequel Trilogy, Clone Wars & Beyond, and Star Wars: A New Era. Everything is put together with obvious care, and detailed to the extreme.
So if there was a 13 episode radio drama released in 1981 recounting the Star Wars story (and there was), then it's in here. Remember the first new lineup of toys since the original Kenner run in the 80s? The ones that hit in '95? You better believe they're here in all their glory.
If I can digress for a second, that first new wave was pure magic. Sure the sculpts were over the top muscular, but you had almost all the key characters and vehicles hit stores, all in one single wave. When does that happen?! That's how you launch a line. Actually, now that I'm all nostalgic, why don't we use 1995 as an example of what you get throughout this book? Seems only right as that was really when the original trilogy started to seriously explode again as a phenomenon.
A 'Star Wars' year in detail
Ninety-five was just a few years after Star Wars games got 'good' and Dark Horse started to publish its Expanded Universe. It was a big year for Lucas' baby, and the chapter for it is broken down like all the others in the book.
Starting on the first page, there's a monster size piece of text showing the year. Under that is where the fun stuff starts. There's a shot of Kenner's new Luke Skywalker figure, with some text about the franchise in general next to him. Then a blurb from the store manager at FAO Schwartz. Apparently, he thought that there was an "older market" for Star Wars toys. Go figure.
Then the monthly breakdown starts… and it's glorious. In January, From Star Wars to Indiana Jones: The Best of the Lucasfilm Archives hits bookstores (I still have mine!). Then came that big splash at Toy Fair in February. That's where the renewed toy line debuted. Galoob's Star Wars Micro Machines expanded too, and Dark Forces hit for the PC. It's still one of the best Star Wars games ever made, and its launch is a distinct memory for me.
Oh right, there was also a spacewalk
Bernard Harris Jr. and C. Michael Foale became the first African American and first British man to walk in space. Actor and eventual 'Jango Fett' Temuera Morrison had his first film with Once Were Warriors too. See what I mean about the non-Star Wars stuff?
Yes you'll find everything that there is to know about Star Wars toys, comics, movies, and video games in this book, but there's so much more. Shadows of the Empire arrived in 1996, along with IBM computer Deep Blue beating chess champ Garry Kasparov, fossilized life being possibly found on Mars, and Dolly the sheep being cloned. There's even stuff about other entertainment properties, and mention of things like the very first Apple computer, back in 1981.
Oh by the way, '95? It also saw the beginning of work on the pod racing scene from Episode I, the re-launch of the trilogy on VHS, and the release of Rebel Assault II on the PC. Add to that more legendary Star Wars books, and another wave of action figures- hitting just in time for the Holidays. What a year for Star Wars fans.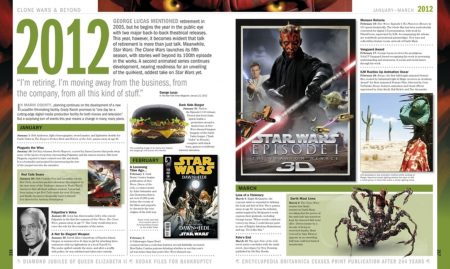 Expertly crafted
Written by a team of three, this book is a hefty volume. But though Ryder Windham and Daniel Wallace contributed quite a bit to it, it's really Pablo Hidalgo that did the lion's share of the work and covered the entire modern era. It must have been a tremendous task for all though, to research the libraries of info on the saga and pull the most important and interesting facts. As a big fan of the original movies, it's appreciated.
Clocking in at 368 pages in total, it's a joy to read. True, for me specifically there isn't too much to dig into after the Between the Trilogies chapter, but there's no denying that there's something here for every level of fan. Even the construction is fantastic. The pages are nice and heavy, so much so that I actually thought I was turning multiple pages more than once. Colors are rich and vibrant, and even the oldest pictures pop off the page.
The book is also slipcased, with a cool double sided box keeping it safe. Cast in gold and black, you get Kylo Ren on one side, and on the other- Darth Vader. C-3PO adorns the spine, which is a neat little touch as well. The interior cover has Vader again, along with Ahsoka Tano and Rey. On the back? The clone army on the march, Luke and Yoda, and artwork of the trench run from the original movie.
There's also a pair of bonus prints included for good measure. Unfortunately, both are from the sequel trilogy. I would have liked to have seen one from the old, one from the new, but what can you do. Everything else here is so awesome, I think it can be overlooked.
All-Encompassing
More info than you can shake a Hutt at - 100%
Your interest might trail off on certain sections - 80%
A visual treat - 90%
Overall, a complete presentation - 95%
This is really a book not to be missed if you're a Star Wars fan of any era. It might hold a little less interest here or there for some, depending on which trilogy you're into more, but the totality of the package is difficult to find fault with. A fantastic tome to be savored, Star Wars Year by Year: A Visual History is one of those books that you'll no doubt find yourself cracking open again and again for a long time to come.