In the second of the new season of The Walking Dead, we get a welcome slowdown and a look into what some other characters who were not on the road with Rick and crew have been up to.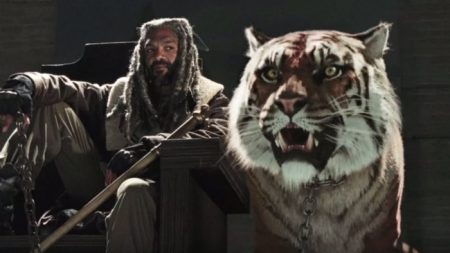 The last we saw of Carol (Melissa McBride), she was trying to stake it out on her own after finally coming to terms with what she has done in order to survive since the beginning of the fourth season. I guess that burning innocent people, shooting children, and attempting to kill prisoners has finally gotten to her.
Anyway, Carol was rescued by Morgan (Lennie James) from some Saviors. Morgan went against his code and killed a savior. The last we saw, some people in armor promised Morgan and Carol help.
"The Well" picks up with Morgan and Carol getting taken to a new community. The community, known as The Kingdom is a great one, and certainly looks bigger than any we have yet seen on the show. There is a school in session, farmers farming and people walking. When Carol wakes up from her illness and weakness, Morgan takes her to meet the leader of this grand community.
Entering a school auditorium, Morgan wheels Carol (she is in a wheelchair) up to the stage, where we meet King Ezekie (Khary Payton). Speaking in grand terms, it is obvious that Ezekiel fancies himself a king. Not only that though, he, uh, has a tiger.
Speaking in broad terms, Carol appears to eat up Ezekiel's speech about contibuting to community. She refuses a pomegranate, and as soon as her and Morgan leave, she goes into how crazy the Kingdom is. She equates the lifestyle led by the people to play time, and reaffirms her plan to leave to Morgan.
The rest of the episode does a great job teaching the audience how the Kingdom deals with the saviors. It becomes obvious that the groups have a working, if reluctant, relationship.
Morgan begins teaching a new student how to use his staff as a weapon, and when he goes to check on Carol, she is gone. Ezekiel finds her in the garden and the two have a long talk about hope, and where Shiva, Ezekiel's tiger, came from. Carol affirms that she will still be leaving, and Ezekiel doesn't stop her.
Walking, Carol finds a house on the outskirts of the Kingdom and rids  it of walkers before moving in. Setting a fire, King Ezekiel then knocks on the door. This time, though, he offers with certainty a pomegranate to Carol.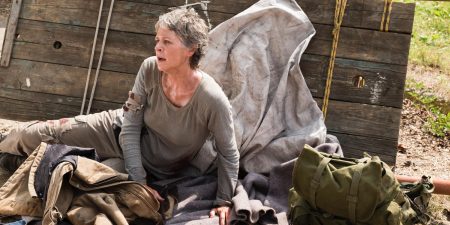 This episode was admittedly a little slow on the action. The most action came when Morgan was recruited to go on a mission with Ezekiel's main men to prepare a shipment for the Saviors. That doesn't mean the episode was bad or weak, though.
After last week's bloodbath marathon, I was happy to see a slowdown and be reminded that hope will never really go away if those in charge hold on to it.
It is also really interesting to see a pre-baked chemistry between Carol and Ezekiel. If the comic is any indication, I am predicting that the two get into relationship, at some point in the future.
Above all though, Ezekiel is without a doubt one of the coolest characters in the book, and I am more than glad to see him make his debut on the small screen. Payton does a great job of capturing the allure and grandeur of Ezekiel. I can't wait to see where this story line ultimately ends up.