Reus is an interesting game. It is hard to place it in a genre. It is a bit like a nice mixed drink.
Think of your favorite concoction and all the parts that make up your favorite drink. Now, some of these parts are fine on their own. Together, the perfect combination of parts can make a great product, and this is the best way to describe Reus.
There are three elements to this game, and all of these parts should be all too familiar to any game-player. It's essentially one part materials management, one part project management, and one part monster smashing. A game can be built on each of these elements alone, but together they combine and create a successful game.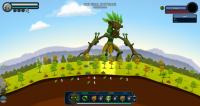 Starting with the project and materials management, think of Carcassonne. Placing objects next to other objects makes them perform better. Managing the villages and cities here reminds me of SimLife or Civilization, where projects will pop and the players can either help complete or ignore the project. The last part has some monster mashing happening too.
There is a lot happening but don't let that scare you away from Reus. It is quite a fun game to play and Abbey Games does a great job of explaining how to be successful.
In the beginning, there was Reus
In the beginning, there were four monsters and a planet. These monsters constructed a happy and healthy world. Villages were full of disciples and animals and humans worked in unison. These monsters, tired after working so hard decide it is time to sleep. After a long slumber they rise from the planet's depths. They are excited to return to this paradise only to wake up to a barren planet. Something has happened and now these giants must start over.
These monsters bring all the people to the yard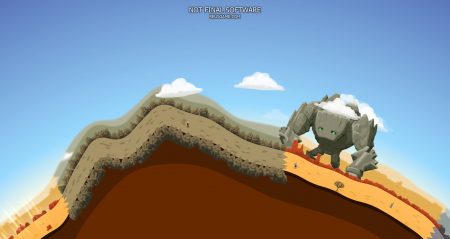 The monsters in Reus are the heavy lifters, literally. One of them is a giant rock creature, who can actually create mountains, deserts and deadly earthquakes. There's also a tree monster that can create forests, plants and can even place a pox on a village.
Want something sludgier? The swamp monster can create swamps, animals and noxious gases (ahem – ed). Lastly, the seacrab creature can create oceans, life, and heal other monsters. The player will control each monster separately, working together to create biomes for life.
The essentials for life, water, is provided by the seacrab monster. Once an ocean has been created, new biomes can sprout up. These biomes consist of a desert, a swamp and a forest. Each biome supports different plants and animals. By combining the god-like powers of the swamp monster and tree monster, players can start small villages in their biomes.
It takes a village to, well, build a village…
Once life has decided to populate a biome, the monsters must switch gears and produce food, wealth and technology for their disciples. Food comes in the form of plants, fruits and animals. Technology is created through advanced mining. Wealth is created by mining in the ground and oceans. Sounds easy, right? Not quite, as once settlers create a village, the real gameplay starts.
Villages need to grow and prosper and the only way to that is by building symbioses and transmogrifying objects. Creating symbiosis is a complex dance too. The rock creature can create tunnels of minerals for wealth. A good way to increase the number of wealth produced is to use the swamp creature to create a wild animal nests next to the mineral mine.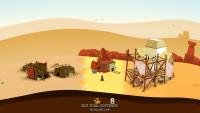 These two objects create symbioses and provide more materials. You can create even more unique materials as well. Creatures and minerals can go through transmogrification to build diverse plants and animals. And once a village has met certain goals, they can decide to start a project.
Projects vary greatly in Reus. From simple schools to mad scientist's secret lairs, though they're not much of a secret when you can easily view the lairs. Some villages will show their gratitude to the monsters by wanting to complete a sacrificial statue dedicated to the monsters. This sounds like a sweet gesture, but this type of worship can lead to greedy villagers and then these villagers can unite and attack the monsters.
Is it better to be feared or loved?
As the villages grow, so do their expectations of the monsters. Some insist they need to be held and coddled while others grow up to be strong and independent. Finding the right balance can be difficult. Managing several projects at once is taxing on the monsters, and players, and some projects will not get completed.
This can cause villagers to become greedy and decide they have had enough of the monsters. These puny villagers think they can continue through the hardships on their own. That's where the question of morality comes in. Do the monsters let these humans express their newfound freedom, or do they strike them down? Is it better to be feared or loved?
Should a monster ever decide to teach a lesson to a village, they have the abilities to create havoc and destruction. As mentioned above, each creature comes with a destructive power that rains horror and terror down on the unsuspecting villagers. Sometimes the villages can be destroyed to make room or to teach lessons.
Maybe the monsters want to try and create a peaceful world only to find it populated with tyrannical oppressors. Would you destroy this awful planet to make room for a new world? These are the types of questions players will have to answer once they create their planets.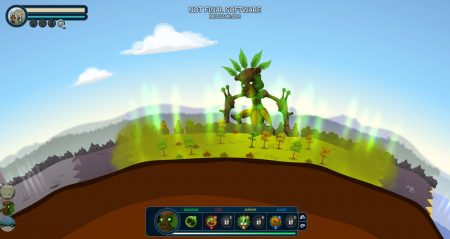 Equal parts fun and strategy
Simple but pretty graphics - 75%
Easy to control, and frustration free - 80%
A laid back experience - 80%
Reus has a dash of monsters, a pinch of management and a whole helping of fun. Together these elements all work together to bring a polished and enjoyable product to the Xbox One. The calming soundtrack adds to the ambience as players decide who shall live and prosper and who shall fade away from existence. Beneath the pretty exterior and humorous gameplay though, lies a game built on strategy. The learning curve is nice and gradual as, if anything happens, players can destroy all the villages and start over. The player is not often penalized for experimentation as this is part of the game. If you enjoy Carcasone, the Civilization series or Rampage, then you will most likely enjoy playing this game as well. It is by no means full of action happening at break-neck speeds, but instead feels like a nice refreshing glass of something unique. It is easy to lose track of time while playing Reus. What can start as a quick dive in can turn into a multi-hour marathon. So go forth, create life and enjoy being a giant god-like creature. However you plan on playing Reus, it will provide a fun experience.