Cometh The Hour brings the BPRD: Hell on Earth arc to a close, following Kate, Liz, Panya and Johann battle the Ogdru Jahad.

Hell On Earth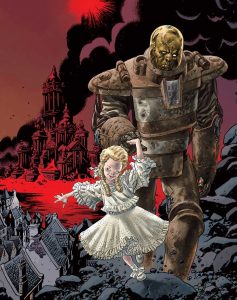 These events are appropriately named. Battling with the Black Flame, taking on multiple Ogdru Jahad. There is no way these things would go easily. Cometh The Hour brings us to the culmination of all these attacks. Battled, bruised and burnt out, our heroes at the Bureau of Paranormal Research & Defense (BPRD) have definately taken things as far as they are able. While I won't go into spoilers here, you know it's rough when a hero passes out from exhaustion.
Now, I am coming in a bit late to this storyline, so I am new to some of the characters, the likes of Panya, Johann Kraus and Kate Corrigan. Though seeing the paranormal likes of some of these taking residence in the BPRD along side Liz Sherman is a welcome sight.
With the Black Flame Dead, Kate Corrigan, Liz Sherman and the BPRD face a problem no one imagined – an earthbound Ogdru Jahad, spilling new nightmares across the landscape…
We get to see a bit of the BPRD headquarters, see Liz wrapping up things in an unnamed location. There are even little hints of what Johann Kraus is capable of.
Cometh The Hour Writing
The writing in Cometh The Hour took a minute to adjust to. While it all makes sense, this title is wrapping up several stories, and it shows. There is plenty of hopping around to different locations and plot points. One minute you see Panya at Headquarters, the next you are in flight with Kraus. I am becoming quite a fan of the BPRD stories in general, though from time to time they try to pack too much into a 30-page issue. I much prefer their larger issues.
Hell On Art
One thing Mike Mignola does quite well, is surround himself with people who are very good at covering ominous imagery. From the bleak colors surrounding Kraus' mysterious existence to Liz being engulfed in flame, Campbell and Stewart do an excellent job of conveying the situation to the reader. I must say with all that the BPRD has had to endure over the decades, I do not envy being on the team with what is headed their way in the following arcs.
See our review of BPRD 146 here
BPRD: Cometh The Hour #1 (BPRD #145)
Publication Date:September 21, 2016
Publisher: Dark Horse Comics
Writer: Mike Mignola, John Arcudi
Artist: Laurence Campbell
Colorist: Dave Stewart
Cover Artist:Laurence Campbell
Disasterous
Plot - 85%
Writing - 78%
Art - 90%
Hell On Earth: Cometh The Hour is nothing short of a train barreling down on anyone. There is a lot of things wrapping up here, and you can't miss it!