The Mattel booth was an interesting one with a heavy emphasis play sets and toys that take advantage of tablets and smartphones, as well as a very cool revamp of Viewmaster and a neat Halo Needler dart gun.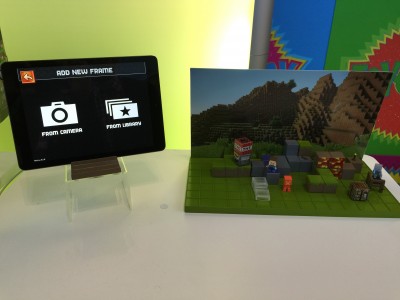 Pretty much every line shown in Mattel's showplace at Toy Fair had some kind of element to electronic interactivity. And this wasn't the usual interactivity that you might be expecting me to talk about either, this was all stuff that actually would see kids (and collectors in some cases) popping their smartphones and tablets into it.
For instance, there was a WWE TitanTron play set that used a tablet to play entrance videos, a Barbie Dreamhouse that uses a phone as wall-mounted TV, and a fantastic Minecraft movie studio where would-be film directors can actually film stop-motion shorts via an app on their tablet. I was honestly excited about this play set even though I'm not a fan of the game at all. It's just a freaking cool idea that seems like its time has most definitely come.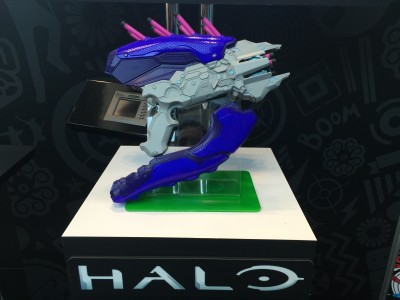 Mattel has also expended their soft dart toy gun line with a bunch of new stuff, including a Halo-branded Needler that looks exactly like the weapon does in the FPS titles from Microsoft and 343 Industries. The gun even has lights that illuminate the darts that you can store on its back- also just like in the game. While this was the only piece of Halo hardware on display, I have to imagine that if it sells well, we might be in for a lot more where this came from. Honestly, it's almost tough to imagine that this hasn't been done before. Video game weaponry in general seems like a perfect fit for something like a dart-gun line. It's kind of a no-brainer that automatically makes the line attractive to not only kids, but adults who play the games.
I have to also make mention of the fantastic new revamp to the venerable ViewMaster. I think everybody who was alive and playing with toys in the 1980s has to have more than a few memories of this toy. The ViewMaster was an oddity in that it kind of didn't do anything all that interesting, but was still awesome simply for the fact that it showed 3D imagery off of discs that you could swap in and out of the 'player' at will.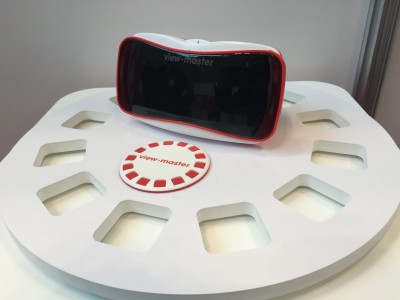 The new ViewMaster is similar in the way that it also uses discs (which look identical to the originals), but that's where the comparisons stop. Basically, the hardware is based on Google tech and works by placing a themed-disc on a flat surface. You then, wearing the goggles, look down at the disc. You'll see images rising up out of said disc, but that's not where the fun stops. If you 'aim' your view at one of the images, you'll then be 'taken' to that place.
I viewed Alcatraz and was able to go to the famed prison, look around in 360 degree views, and even highlight information points that would inform about some of the more… interesting elements of the place. It's really cool, waaaaay better than I had thought it might be, and well worth checking out for both kids and adults.
Outside of that, there was a bunch of what you'd expect to find from the company including Batman 4″ figures and Hot Wheels Star Wars themed ships and fighters that are well worth your attention. Have a look at some of the best stuff in the gallery below.