Janet Van Dyne may or may not be in the upcoming Ant-Man movie from Marvel, but you can definitely catch her as the latest addition to Kotobukiya's Bishoujo line of Marvel statues.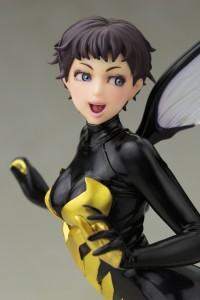 One of the most classic Avengers characters, The Wasp was with the team since the beginning back in the 60s and a constant companion of Hank Pym (otherwise known as the original Ant-Man) for a good long time. She's also a fan favorite hero, although she's yet to appear in the Marvel Cinematic Universe (and doesn't look like she's in the Ant-Man movie either). The Wasp's still pretty darn popular today too, and that's reflected in Koto's latest addition to the Bishoujo line of cheesecake-y statues.
Designed to be highly stylized and definitely evocative of more eastern, manga designs than the Marvel Comics that she's usually featured in, The Wasp comes complete with a base that's made to look like a splash of water that she's lightly touching down on.
This is a pretty big piece too, standing in at 10.7″ tall, and as you can see is clad in one of her multitude of costumes (this one in gold and black). The Wasp flits into stores and to online retailers this coming September. She'll cost you $69.99 USD.