You already know the names of some of the most anticipated games of 2013, but that doesn't change the fact that Activision has some very big guns on hand for E3 again this year,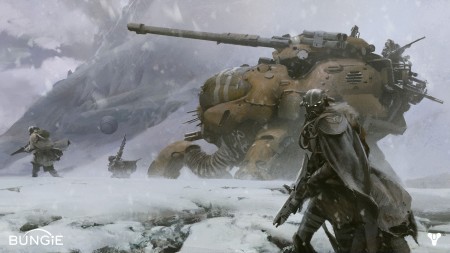 Call of Duty and Skylanders are two of the biggest names in gaming already and are definitely two of the draws for Activision at E3. Call of Duty: Ghosts has already been announced as a current and next generation game and it just might be the case that Skylanders SWAP Force might go the same route. That said though, it's the newest member of the publisher's stable that gamers might be most interested in and might just steal a good deal of the thunder away from the more established franchises – that being Bungie's Destiny. Between the three of these monstrous games, the 2013 edition of E3 should be a very good one indeed for Activision.
Call of Duty: Ghosts – Developed by Infinity Ward, the studio that created the original Call of Duty® and the critically-acclaimed Call of Duty®: Modern Warfare® series, Call of Duty: Ghosts is the next generation of Call of Duty and a stunning leap forward for the franchise. The game delivers an all-new world, setting and cast of characters, all powered by a new, next-generation engine. For the first time, gamers play as the underdog, fighting as part of a single squad against an enemy that has superior numbers and firepower. Call of Duty: Ghosts' next-gen engine delivers gameplay innovations throughout the entire game, including several new multiplayer features that will be unveiled in the coming months. The game is expected to release on November 5, 2013 for the Xbox 360® games and entertainment system from Microsoft, PlayStation®3 computer entertainment system and Windows® PC. (Developed for Xbox One®, the all-in-one games and entertainment system from Microsoft, Xbox 360, PlayStation®4 computer entertainment system, PlayStation®3 system and Windows PC; not yet rated by the ESRB.)

Destiny – Activision in partnership with Bungie, the creators of Halo®, will showcase Destiny, the next evolution in interactive entertainment that brings first-person action gamers together in a shared, persistent online world filled with sweeping adventures. Destiny casts players as Guardians of the last city on Earth, who will traverse the ancient ruins of our solar system from the red dunes of Mars to the lush jungles of Venus. Able to wield incredible power, gamers must battle humanity's enemies and reclaim all that was lost during the collapse of mankind's Golden Age. In a story-driven universe, Destiny's saga unfolds through grand tales and epic adventures by immersing players in a bold new universe filled with cooperative, competitive, public, and social activities, all seamlessly connected. (Developed for the PlayStation 4 system, PlayStation 3 system, Xbox One and Xbox 360; not yet rated by the ESRB.)

Skylanders SWAP Force – Activision's Skylanders SWAP Force continues to build upon the success of the award-winning franchise's signature gameplay and collectible toy experience with the introduction of an innovative feature – dynamic swapability. Kids and gamers will have unprecedented levels of choice in how they explore Skylands and battle Kaos by swapping the top and bottom halves of the toys to transform 16 SWAP Force characters into more than 250 unique combinations. Set in a richly detailed world of next generation visual fidelity, Skylanders SWAP Force takes kids on an all-new adventure with 32 never-before-seen heroic characters that each offer unique powers and personalities. The game also features new abilities – such as flying, climbing, and teleporting – which can be used in special areas of Skylands. Additionally, fans can play with their entire collection of 100+, forward-compatible toys from both Skylanders Spyro's Adventure® and Skylanders Giants™. Skylanders SWAP Force is set to release in North America on October 13, Australia on October 16 and Europe on October 18. Fans can pre-order Skylanders SWAP Force Starter Packs worldwide beginning on June 7; all games pre-ordered at participating retailers worldwide also will come with a free Skylanders toy. Suggested retail pricing: starter pack, $74.99; individual action figures, $9.99 for core characters, $14.99 for new SWAP Force characters. (Developed by Vicarious Visions for the PlayStation 4 system, PlayStation 3 system, Xbox One, Xbox 360 and the Wii U™ system from Nintendo; the Wii™ from Nintendo version is in development by Beenox; the portable Nintendo 3DS™ version is in development by n-Space; not yet rated by the ESRB.)
I had the good fortune to attend a Skylanders SWAP Force event that Activision held in New York City around Toy Fair of this year and I'll tell you this- it was easily the most visually impressive Skylanders I've seen. It was also tons of fun and the SWAP Force characters, who you can interchange the parts of, are miles ahead of the current figures on the market in both sculpt and paint application.

Call of Duty: Ghosts is a kind of reinvention of the modern military shooter that developer Infinity Ward has done so well in the past. Forgetting about the 'Modern Warfare' brand, Ghosts crafts a brand new narrative in a brand new universe for the series. I'm just excited to see something genuinely new and character based coming out with the Call of Duty name on it.
I'm most interested in seeing Destiny though. Bungie's first game under their agreement with Activision will see release for the PS3 as well as the Xbox 360 and PC and is looking very interesting indeed. Without much out there right now, it's hard to get a firm grasp on what Destiny will be bringing to the table, but we should get a much better look at the game this week at E3.
And of course, I'm sure that's not all we'll be seeing at the big show from one of the biggest publishers in gaming as Activision will no doubt have all manner of next-gen surprises in store. Keep following us right here on Brutal Gamer for all the news that's fit to print, all show long.