The next game in the super-popular Skylanders series is both swappable and unstoppable.
That was the tag line being bandied about at a special pre-Toy Fair event at the NASDAQ center in NYC's Times Square the other day. Activision held the event to officially announce the next game in the Skylanders series from new developer Vicarious Visions. Yes that's right, series mainstays Toys for Bob will be taking this one off as VV will helm the "swappable, unstoppable" Skylanders Swap Force.

Why Swap Force? Because the newest hook for the toys that have grabbed hold of both the gaming and toy industries in the 15 or so months since Skylanders Spyro's Adventure shipped is that the characters break apart at the waist and can be swapped with other Swap Force Skylanders to customize powers and looks.
It's a pretty cool feature that works flawlessly as it was demoed to us here at Brutal Gamer. Now keep in mind that the figures on display were just prototypes, but the mechanic used for the 'action feature' looks to be a pretty simple one. Held together by magnets, the new figures pop apart and a new torso can be very easily stuck onto any pair of accepting legs… or wheels, or tentacles, etc… These guys don't fall apart easily though. I had the chance to play around with a few of them and I can report that assembly comes complete with a satisfying 'click' and, even though it was just three small magnets holding them in place, the toys do take a decent pull to get apart. That's a good thing, especially for kids.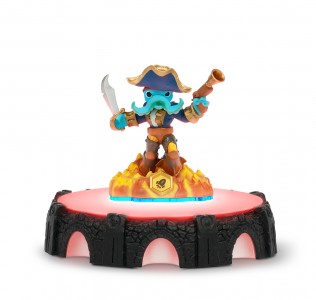 The new sculpts are some of the best of the line too with really nice detailing and paint applications. I haven't seen Skylanders toys as impressive as this and I have more than a few on my game shelf. As good as the original figures (and the Giants too) were, these are lightyears better in terms of overall quality. The new characters run the gamut from slick to downright wacky too, keeping with the tone of the game. My favorite (and a favorite of one of the presenters as well) was a character named Countdown who could throw his own head at enemies once added into the gamescape via the Portal of Power- oh, and his noggin was actually a giant cartoon bomb. Great stuff.

And about that game, it looks terrific. The graphics look like they've been almost completely overhauled from the pretty much just released Skylanders Giants and the animation is silky smooth. Flying segments will also be featured in Swap Force with several of the new Skylanders showing off the ability to take to the skies.
We were shown a wild west themed stage where the player (there was no 'hands on' allowed) had to navigate rooftops and floating dust covered islands to take down some nasty goblins in airships. Cut scenes played throughout, all of which were using the 'in game' engine and looked fantastic. Very Pixar-like stuff here and seemingly way more NPC interaction than in past games.
Making fans wish lists for the next game in the series was jumping and you'll be glad to know that all versions of the Swap Force will grant your Skylanders the ability to hop around the colorful levels to their hearts content. Previously, only the 3DS versions of the games had that 'feature', which is kind of odd when you think about it for platformers.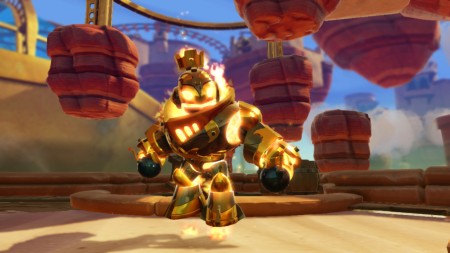 All in all, I walked away extremely impressed with what Vicarious Visions is doing with Skylanders Swap Force. I wasn't really a big follower of the series although I had played the portable version of both existing games, but that's changed since I got a look at Swap Force.
It's changed my mind completely on Skylands and I'm definitely looking forward to seeing more on Swap Force. I have a feeling that if you're already a fan, you're going to be very happy too come this Fall.