One of the biggest and most celebrated RPG's in years, Larian's Baldur's Gate III is getting a big box edition very soon.
Adding to the library
While it's already out for PlayStation 5 and PC, Baldur's Gate III will soon be making its way to the Xbox as well. Or we think it'll be coming soon anyway. While it was rumored that it was hitting before the end of 2023, and the reveal is set for December 7th's The Game Awards, there's still no official launch date.
Nevertheless, it is coming, and now we know that there will also be a new physical, disc-based version as well. This won't be a vanilla copy either, and will be absolutely packed with goodies, but even so it will not be a Collector's Edition. And from the sound of it, it will have multiple print runs, which will all be exclusive to Larian's online shop.
This new copy of the game will ship on two discs for PS5 and three for the Xbox Series X|S. It'll be playable on those discs too, so it's not the case that you'll just find installers with massive downloads (we think anyway). That's in stark contrast to the PC version though, because while it will be identical in terms of physical content, that disc will be a DVD with a "custom installer" on it, and a Steam download.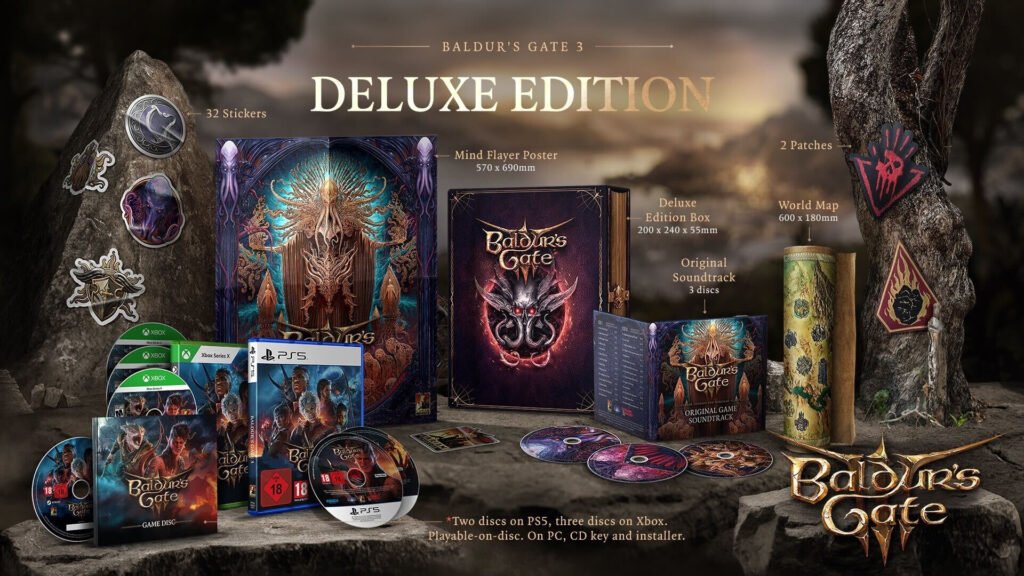 "This experiment is what we feel the future of physical media looks like, at least for us at Larian," said Michael Douse, Director of Publishing at Larian. "We spent the last few months learning how to do it from scratch and put everything we learned from the Collector's Edition into what we hope is unbeatable value for what we're considering our standard physical version going forward. If it works out, we'll keep doing it this way. We understand the value of physical media, and while there are clearly increasingly significant challenges when it comes to the archiving of games, we truly believe it's worth experimenting, even if it means a fuck-ton of discs."

Larian Studios press release
Baldur's Gate III: Deluxe Edition is up for pre-order now, and is set to ship for all platforms some time in quarter one of 2024. For the full list of its physical and digital contents, scroll down.
The Deluxe Edition also includes a wealth of goodies:
Original Soundtrack on 3 CDs
Cloth World Map
Two Fabric Patches
Thirty-two Stickers
Baldur's Gate 3 Art Poster
You'll also receive all existing Digital Deluxe content, which includes the following:
Divinity Item Pack
Bard Song Pack
Exclusive Dice Skin
Paintings from Rivellon
Adventurer's Pouch
Digital OST
Digital Artbook
Digital Character Sheets
Larian Studios press release