Lemire and Ormston's Black Hammer universe continues to evolve in Age of Doom, a fresh miniseries from Dark Horse. As it opens, it seems as though the heroes have found a way out of the purgatory they're trapped in. Maybe.
Picking up immediately where we left off–Lucy Weber has become the new Black Hammer and right as she's about to reveal to our heroes how they got stuck on the farm and can escape she vanishes. Now our new Black Hammer finds herself trapped in a gritty world filled with punk rock detectives, emo gods, anthropomorphic humans, absurdist heroes, and many more weirdoes, in a mad world in which there is no escape!
Wielding the hammer
That above, is the synopsis for Black Hammer: Age of Doom. If it makes no sense to you, then we're on the same page. The series of minis is an all new universe from the minds of writer Jeff Lemire and artist Dean Ormston. And for good or ill, it's been nothing but weird from the start.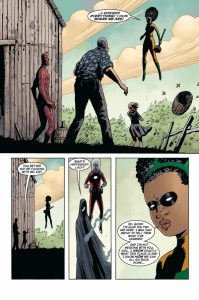 I read only the first few issues of the initial Black Hammer book, so I'm not all that caught up with what's been happening. If you don't know, Black Hammer was a superhero, and he and his team thwarted a god-level baddie. After that, they all vanished into some kind of bizarre purgatory. They can figure no means of escape from the small town they're trapped in, and have no clue as to its location. The Hammer himself is the only one who tried to escape, and somehow he was brutally killed. And that's the more clear-cut stuff.
Since then, Lucy (the Black Hammer's daughter who's been hunting for him in the real world) was somehow teleported to the town as well. After she got there, her mind was wiped by Madam Dragonfly, a mystical hero. Still with me? Cool.
When this new book opens, Lucy has taken hold of her father's cosmic mallet. More than just wielding it, she's transformed into an all new version of his alter-ego, the Black Hammer. She also says she has the key to get out of the town…
A story of futility
I don't want to spoil too much, but you can see from the preview pages that something happens to Lucy. Effectively, this dangles the carrot that escape is possible, but the team of heroes still has no clue as to how. They do get spurred on by Lucy showing up at all though, so that's something.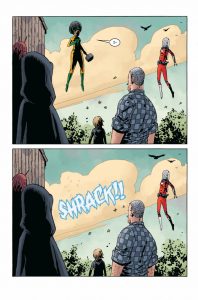 But overall, there's a sense of futility and hopelessness to the book (even though one of the main characters expressly says otherwise). It permeates the story itself, furthering a feeling that I started to get off of the first run of Black Hammer. That being that nothing matters.
What is definitely different this time around is that Lucy has opened up the world that everyone is trapped in considerably. I don't want to spoil how exactly, and this is tough to skirt. What I can say is she re-appears in a place that could be seriously telling as to where everyone actually is. That's doubly true of the preview page that appears at the end, touting the next issue.
So what I'm basically saying is that there's a much better sense of movement on this overarching story this time around. I stopped reading the original series because I felt like the narrative didn't have enough to it. Also, kind of because I felt like it was too bleak. At the very least, this time there's a real sense that answers are on the way.
Ormston's art shines
Dean Ormston isn't an artist that I was all that familiar with before the first Black Hammer. His style isn't what you'd usually find in a superhero book, but it works really well here.
He's able to convey a sense of a "real" world in the book, which might be quite ironic if where this is going is where I think this is going. In any event, it's good stuff. He does a nice job with contrasting the costumed (Lucy) Black Hammer against the rest of his world too. And the new "area" that's exposed in the issue comes across as suitably creepy, and its denizens borderline unsettling.
With a solid story and art that's as fitting as Ormston's, you might think that this is a winner. The answer is that it pretty much is. The key here, for me anyway, is that it sustains the feeling that this is all heading to a resolution of some kind.
For now though, I'm definitely going to be along for the ride.
Black Hammer: Age of Doom #1
Release date: April 18th, 2018
Format: Limited series
Publisher: Dark Horse Comics
Written by: Jeff Lemire
Illustrated by: Dean Ormston
Age of Doom
Ormston's art shines in this series - 90%
The story has an almost uncomfortable sense of dread - 84%
Lemire's script is top notch - 95%
There's a lot to come in the Age of Doom, that's for sure. Actually, maybe it isn't since the original Black Hammer mini-series didn't exactly go heavy on the exposition and offered few answers. Still, this new superhero universe has terrifically written characters, curveballs galore, and some sharp art from Ormston.