IDW isn't done with the Mirror Universe just yet, as a villainous version of an Enterprise crew member is still on board the ship in Star Trek: The Next Generation – Terra Incognita. Looks like things are going to get a little strange on board the 1701-D.
Fun with mirrors
Has IDW been running with the Mirror Universe stuff or what? One Mirror-y event is already out there, and another is on the way. But in the meantime, the publisher is moving into the main Trek universe for Terra Incognita. Though that doesn't mean that it's leaving the Mirror baddies behind.
Quite the opposite actually.
This six-issue miniseries reveals unique, focused stories
where beloved characters find themselves in new, unfamiliar situations, in a format echoing the "done-in-one" nature of the television series. However, each issue also features a subtle throughline of an evil Mirror Universe crewmember established in the Mirror Broken and Through the Mirror series remaining on the ship, wreaking havoc while posing as his prime universe counterpart. Featuring the best of both the Mirror and original universes, Terra Incognita is a unique new step in this riveting saga.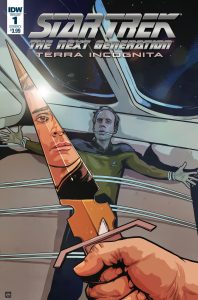 Sounds pretty neat actually. The Mirror Universe was completely ignored on the TNG TV series remember. So I actually don't mind seeing it pop up as a main theme in the comics. I doubt there are too many fans out there who would either.
It's a pretty cool concept too, if not a new one. Every sci-fi property out there has had "bad guy" versions of its main characters at some point. So no, it's nothing new. It's just that it's kind of cool to see it in The Next Generation.
Creatives with a history
There's a very solid looking creative team on board for this one, with tons of experience in Trek. Scott and David Tipton will be handling the writing for this series. If you're a fan then you probably know those names. The Tipton's have previously worked on a whole bunch of Trek comics for IDW. Those include Star Trek/Doctor Who: Assimilation Squared, Star Trek: City on the Edge of Forever, and Star Trek/Planet of the Apes: The Primate Directive. And the art? That'd be Tony Shasteen. He's worked on "Star Trek, Star Trek: Boldly Go, Star Trek: Discovery: Light of Kahless".
"We can't thank the fans enough for the enormous response to Mirror Broken and Through the Mirror. Clearly, the love of Picard and the entire Enterprise crew runs deep, and who are we to deny fans what they want?! This epic team-up of Scott and David Tipton plus artist Tony Shasteen is a true all-star roster of Star Trek comics talent," said Editor Sarah Gaydos.

"As much as I love all iterations of Star Trek, getting to write for The Next Generation always feels like coming home. And getting to continue the work we've been doing with the Mirror Universe is an unexpected bonus," said Co-writer Scott Tipton.

"We hope to bring Trek fans brand-new TNG tales that feel like episodes they somehow missed on television, along with a few shocking surprises!" agreed Co-writer David Tipton.
Look for Star Trek: The Next Generation: Terra Incognita to hit stands some time this year. Oh, and while you're still here, I'd like to point out that that's a pretty creepy cover. It's… disturbing.