Infinity War is almost here, and the merchandise is everywhere. That includes new Minimate sets from DST, who've got all the big heroes and villains arriving in tiny action figure form.
Infinity Minis
Minimates are easy to like, with their small form factor and amazing roster depth. There are hundreds (thousands?) of Marvel characters in the line already, including all the biggest names. And now, Diamond Select has added the cast from the upcoming Infinity War mega-film.
The movie brings together the entirety of the Marvel Cinematic Universe. It's more or less got the same flavor that the original crossover event did in the comics, and quite frankly that's an awesome thought.
The Minimates lineup from DST isn't quite as in-depth of course, but it's plenty neat all by itself. As usual, these figures will feature some exclusives too. Not as usual though, there won't be a Toys R Us exclusive in the mix.
In case you've been living under a rock, the toy chain is heading out of business (probably). Exclusives have been canceled or moved left and right, and the two-pack set included here is in that mix.
So what does that mean? Well, basically that the TRU carded figures will be available at your local comic shop, joining the box set that was already scheduled. You can also grab that wave at Walgreens by the way, minus the Rocket and Groot set. That one's a comic shop exclusive.
But overall easy peasy. Nothing  has been cancelled and you can still get all of them should you so desire.
Here's what's on tap: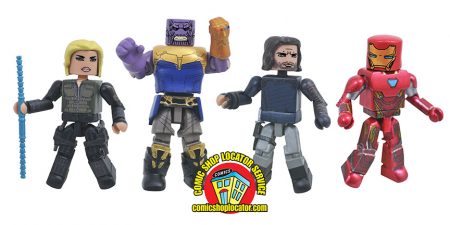 Box set:
Marvel Minimates Avengers Infinity War Box Set includes Iron Man in his Mark 50 armor, Thanos with his Infinity Gauntlet, and two exclusive figures – Black Widow with her batons and staff, and the Winter Soldier with his weapon! The box set has an suggested retail price of $24.99.
Wave 1 carded figures:
Iron Man with Thanos
Hulk with Spider-Man
Rocket with Adolescent Groot
All of the above can be pre-ordered still, via your local comics shop. And it's just the tip of the Infinity iceberg too, as Diamond will also have statues aplenty, and full-scale "Select" action figures on offer in the weeks to come.