Hala is after Star-Lord and the Eternity Forge. We are learning more of what this forge is capable of. Will he keep the artifact, or doom it's chances forever? Find out in Guardians of the Galaxy Ep 3.
You can find our coverage of Ep 1 here and Ep 2 here.
Little Star-Lord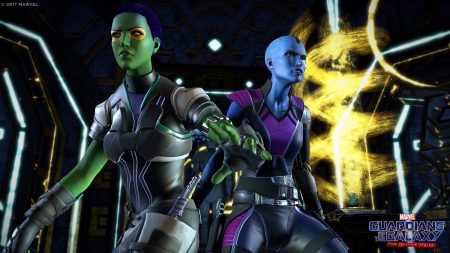 This episode wants to come in with a bang. We find ourselves as young Peter Quill with his mother in a music store. Some of you may remember what these were. Mom has to run to the pharmacy down the street, leaving Peter with the store owner. This certainly hearkens to an earlier era.
Pete gives the store owner a tape he wants copied, and the man disappears again. No sooner does he leave, and Peter's bully enters the store. As bullies do, it's not long before there's confrontation and the choice of being calm, or retaliation. Of course, I had to go with the retaliation option here. Stop a bully in his tracks? Why not. I can do that in video games.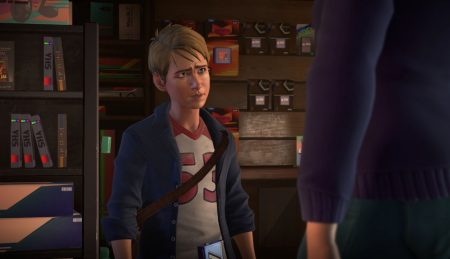 Mom's disappointed, and the bully is crying that Peter broke his nose. In any other instance, this would be the last we heard of that bully.
Woodland Ways
Back in present day, Quill finds Gamora alone in the woods. She's reliving a hallucination of training days with Nebula. Amidst fighting for our lives, we learn a bit more about the lives of Gamora and Nebula growing up.
It certainly was not an easy upbringing under the Mad Titan. All the same, they end up on a mission together, though no one has the full story as to what is going on here. The sisters have to address a Kree general, though the mission does not go without its own drama.
Team Tally
Quill and Gamora find themselves in front of a church. Inside is who they believe to be the 'she' they have been looking for. The do find someone, though it is not who they expected to find. Mantis, the antennae-wielding heroine has entered the picture.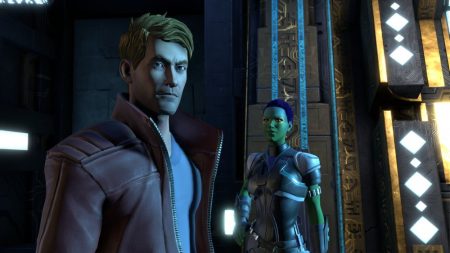 If you are not familiar, Mantis is an empath, and stirring up emotions in every team member. She requires Quill to address a few things before they can find their next target. The ensuing backstories and feelings give a great amount of depth into the team, without dragging the story down.
Once several points are addressed and the team is in a good place (mostly), the mission continues.
Temples Two
The team find themselves in another temple on an unknown planet. This temple has seen better days. At one time or another, there must have been a scuffle over what to do with the Eternity Forge. I couldn't understand why. It merely has the power to raise the dead, however not without a cost to match.
The rough part though, is that you, the player, must decide whether it is better to charge or to shatter the Eternity Forge. So many possibilities if you keep it around. As well, there is the possibility that things could go badly if you do.
Like any good game story, Hala shows up, bringing her own franchise of fresh hell to the party. How this episode ends, is up to you. I'm going to hold on to my decision, for now. Grab a copy of TellTale Games' Guardians of the Galaxy Ep3 if you want to experience it for yourself.
Thoughts
I enjoyed the insight into the life of Thanos, however brief. We do not typically get alot of background on some of these characters. Good on TellTale for taking this route. Some of these characters I am more familiar with, but as a whole, the Guardians is an enjoyable expansion for me.
Fumbling with the Forge
Plot - 90%
Writing - 87%
Art - 84%
Holy Backstory. The introduction of Mantis presents us with additional background on Nebula, Gamora and Thanos. Plenty of emotions running high in this episode. Thankfully the team has their infighting under control.