Another week means another episode of the long-running zombie drama, and this week's episode was on par with last week's blood fest, but for different reasons.
The show starts with Boston's "More Than a Feeling" playing while Rick (Andrew Lincoln) does some work on a belt. Michonne (Danai Gurira), enters from around the corner in a robe and the two have a brief conversation about how weeks have passed since the blood bath that shook Alexandria. The episode will wholly follow these Rick and Michonne and their dealings throughout the day.
Rick:
Rick and Daryl (Norman Reedus) are out for a supply run. Before they leave, Denise (Merritt Wever), the doctor who saved Carl's life, asks Daryl to pick up some soda for her girlfriend, Tara (Alanna Masterson).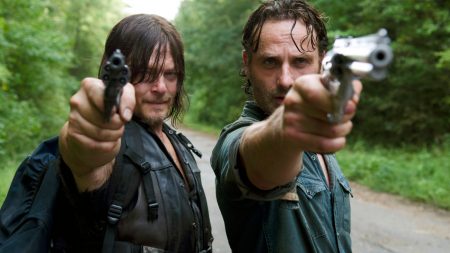 On their travels, Rick and Daryl find a truck fully stocked with all kinds of essentials, notably food and toothpaste. They find that it runs, and don't hesitate to take the truck as they continue their scavenging and scouting run. They find a gas station and begin investigating when they are met with Jesus (Tom Payne). A new character for the show, Jesus' true name is Paul Monroe. He has long hair and a fitting beard. It isn't hard to imagine why people have taken to calling him Jesus.
A brief discussion occurs before Jesus steals the truck with the supplies. Rick and Daryl don't waste any time catching up. When they do, Jesus shows his insane hand to hand combat skills, but nevertheless, gets beaten by Rick's gun. They take the truck back and continue on down the road. A few minutes later, they hear a couple bangs coming from the top of the truck. Suspecting their friend may have hitched a ride, they slam the breaks. Down comes Jesus.
A brief scuffle in a field, Jesus saves Daryl from a walker, and Daryl knocks him out. Instead of leaving him in a field to be devoured, they take him back to Alexandria, knocked out all the way.
Michonne:
Standing atop a watchtower, Michonne sees a mysterious figure with a shovel moving outside the walls. Upon investigation, she finds it to be Spencer (Austin Nichols), the son of Deanna, who was lost in the battle for Alexandria. He refuses to explain why he is outside and wandering with a shovel, but Michonne doesn't let him do it alone.
Meanwhile, Carl (Chandler Riggs) and Enid (Katelyn Nacon) are also spending time outside the walls. In the distance, Carl (minus his right eye), sees a zombified Deanna (Tovah Feldshuh). Carl had just seen Spencer and Michonne moving through the woods, and knew what Spencer was looking for. He led Deanna to Spencer and disappeared before Michonne or Spencer knew it was him who led her.
The story comes back to Carl spending time with his baby sister, Judith, on the porch. Michonne comes up and asks him why he was outside the walls. After he explains that Spencer needed to be the one to put Deanna down, the two have a minor breakdown and embrace eachother in a close way.
The next shot is of Rick and Michonne sitting on the couch in their shared home, vaguely talking about their days. A short exchange later and the two are holding hands, then making out. It continues from there.
The final shot of the episode focuses on a nude Rick and Michonne in bed after what was apparently a long night. Jesus appears at the foot of the bed and both Rick and Michonne jump up to hold their weapons drawn.
The show concludes with Jesus telling Rick that they "Really should talk now."
At one point in the preview for next week, Jesus comments that the survivor's world is about to get a lot bigger. He is right, and it isn't all good things out in that larger world.