Looking for a little spooky reading for this Halloween week? Check out the Humble Bundle, which is loaded for bear with Deadites, boomsticks, and a hapless hero in space.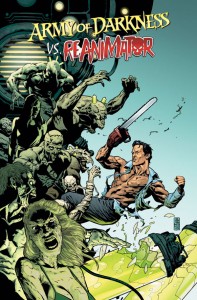 With a new TV show debuting this Saturday, and a trio of big screen films that have carved out a sizable niche in the pop culture landscape, actor Bruce Campbell's classic classic Ash Williams is about as big as he's ever been. So it's only natural that the comics based on him and his undead-killing antics should be pretty popular as well.
"Army of Darkness was our first title at Dynamite and we've loved Ash since day one!" said Nick Barrucci, CEO/Publisher of Dynamite Entertainment. "Combining his eleven year of adventures with Humble Bundle to bring to a new audience is fantastic as it will help create awareness and bring more fans into the comics market. We've had great success with Humble Bundle, and are excited to create new opportunities for fans to come aboard and read more Dynamite Comics. In addition, we are able to help three incredibly important charities including Make-A-Wish, Doctors Without Borders, and the Comic Book Legal Defense Fund. This bundle is "groovy!"
If you haven't been reading Dynamite Comics' line of books based on Army of Darkness, then this one's for you, as the Humble Bundle for this week has plenty of all of the above. Stories featuring everything from Ash getting hitched to taking a trip into the final frontier are included here with a sizable number of comics included in this digital set, which tops out at 92 (1992 being the year that AoD hit theaters).
Here's what you'll get in the basic 'pay what you want' price point:
Army Of Darkness: Ashes 2 Ashes
Army Of Darkness Vs. Re-Animator
Army Of Darkness: Old School
Army Of Darkness: Ash Vs. The Classic Monsters
Ash And The Army Of Darkness
Want to pay more than the average? Then you're also in for:
Army Of Darkness Vs. Hack/Slash
Army Of Darkness: Ash Saves Obama
Army Of Darkness: From The Ashes
Army Of Darkness: The Long Road Home
Army Of Darkness: Home Sweet Hell
Army Of Darkness: Hellbillies And Deadnecks
Army Of Darkness: Ash Gets Hitched
And finally, if you're willing to spend $15.00 USD or more, you're in for even more:
Army Of Darkness: League Of Light, Assemble!
Army Of Darkness: Movie Adaptation
Army Of Darkness Vol. 1: Hail To The Queen, Baby
Army Of Darkness Vol. 2: The King Is Dead, Long Live The Queen
Army Of Darkness: Ash In Space
As usual too with Humble Bundles, there's more on the way too, which will be revealed at some point in the near future. If you'd like to jump on this deal before that happens though, click here, the sale runs through November the 11th, at 11am Pacific time.