It's a full-frontal assault on the Imperium as the Ork Armada arrives in the upcoming Warhammer 40k space strategy title.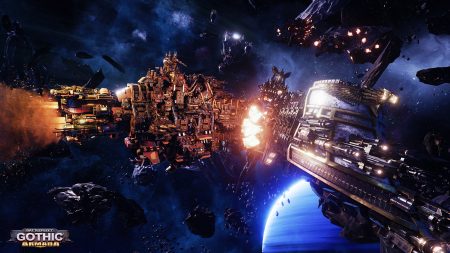 One stunner of a game, Battlefleet Gothic: Armada is getting a dose of the Orks in the newest lineup of screenshots released by Focus Home and developer Tindalos Interactive. Sharp-eyed gamers of course, have already known that Orks were on the way since they were glimpsed at the close of the last trailer that hit, but nonetheless, it's pretty cool to see them up close and rendered in this gorgeous engine.
Ork ships are not what you'd call typical in the world of sci-fi either. They're piecemeal in their construction, slapped together from natural elements, chunk of other spacecraft, and just about anything that the Orkish horde can source. They're also bristling with weaponry and armored prows; you can guess what those are used for. 'Safety' isn't really in the vocabulary of these guys.
Hitting some time in 2016, exclusively for the PC, we'll have plenty more on Battlefleet Gothic: Armada in the next few months.