Believe it or not, the Star Trek franchise is 49 years old this year. And if you're looking for a cool collectible to celebrate, then this neat statue of the Enterprise's Captain should be at the top of your list.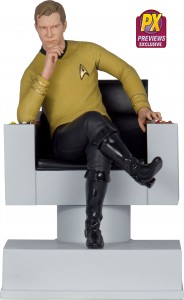 He kind of looks like he's sitting in judgement of your reading habits, doesn't he? He probably is. Though I have to add that I think this Captain Kirk statue could pretty easily be used as a standalone piece and not a bookend, should you prefer.
From Icon Heroes and exclusive to the Previews magalog, Captain Kirk stands (or… sits) in at 10″ tall and features the likeness of William Shatner himself, the original actor to portray the Federation flagship's second Captain. As detailed as you might imagine something from Icon Heroes would be, the good Captain would probably be perfectly at home not just holding up your books, but also your collection of Trek DVDs and/or Blu Rays.
Pre-orderable right now through Previews at your local comics shop (use item code SEP152602), the Captain Kirk bookend is certified for authenticity and is limited to just 500 pieces. Mark your calendar, he'll ship in early January and will run you $135.00 USD.