The Force is strong with Koto and their newest series of Star Wars goodies, including a pretty awesome two-pack of First Order Stormtroopers.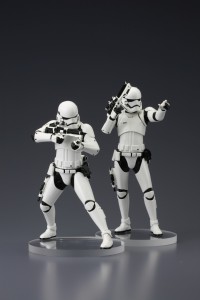 So here's a pretty awesome little addition to Koto's line of ArtFX collectibles- a 2 pack of First Order Stormtroopers. An army builder set, the statues in the 2 pack are displayable in a few different poses and include "alternative arm, leg, and weapon parts".
As usual, no glue or anything is necessary for construction on these bad boys, and both troopers have magnets in their feet that let them stand (peg free) on their bases. You can nab a set for yourself this coming December for $84.99 USD.
Then things get a little… weird.
Not your usual collectibles, Koto also has a set of chopsticks modeled after Kylo Ren's lightsaber, which are sue out in October for $11.99 USD. And there's even some 'sandwich pouch shaper' on the way. What are those?
Well, they're basically little moulds that can create a 'pouch sandwich' and then brand the image of BB-8, a First Order Stormtrooper or even the Millennium Falcon onto them. So you can make a little Star Wars branded fair for that viewing party of the original trilogy before you go see The Force Awakens.
You can get those in November, and they'll set you back $17.99 USD each.