Some more hard rock was announced this week for inclusion in Guitar Hero Live.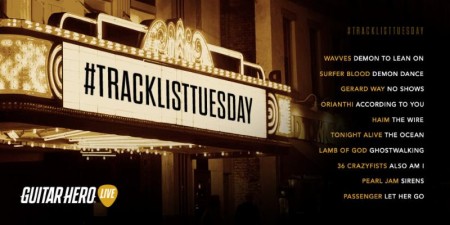 A nice little assortment of tunes hit this week's Tracklist Tuesday yesterday, including stuff from Lamb of God, Gerard Way, and Pearl Jam. As usual, it's a pretty wide-ranging assortment too, with a little something for a bunch of different kinds of rock fans.
Here's what the new additions look like in full:
1. Pearl Jam – Sirens
2. Surfer Blood – Demon Dance
3. Gerard Way – No Shows
4. Orianthi – According to You
5. Haim – The Wire
6. Tonight Alive – The Ocean
7. Lamb of God – Ghost Walking
8. 36 Crazyfists – Also Am I
9. Wavves – Demon to Lean On
10. Passenger – Let Her Go
Guitar Hero Live continues to looks like something to get excited about, with not only it's new look, but also it's full set of music that's included on the disc and the fantastic looking (and seemingly never-ending) GHTV. The game arrives for the Xbox One, PS4, PS3, Xbox 360, and Wii U on October 20th.