Conan forges deeper into the desert, and finds trouble waiting for him.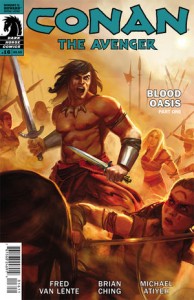 Fresh out of the last story arc that saw the Cimmerian warrior and his traveling companion Natala held prisoner by the Stygian ex-princess Thalis and stalked by the 'god' Thog. They barely escaped with their lives too as Conan was almost killed as he battled against the god-thing.
It just doesn't stop for Conan though, as he's tossed into the wastes of the desert, and has to face a sandstorm which leads to some potentially deadly new foes.  Of course, fans should expect that adventure and swordplay would follow him pretty much wherever he goes, though this issue starts fast and continues at just the same pace.
Writer Fred Van Lente has penned a whole mess of big name books in the past, most recently Archer and Armstrong for Valiant Comics, and seems to have a pretty good grasp on what makes Conan so much fun as a character as he continues his run here. And by that, I mean loads of action and a tinge of the mysterious.
In the case of this new arc, it's the oasis city that Thalia had told them about last issue, as well as a dangerous situation with some slave traders that they happen across on the way. There's really nothing supernatural about the storyline as of yet, though I have to imagine that that's coming since, hey, this is a Conan story that we're talking about here.
Painting in the visuals for the tale is artist Brian Ching, whose art is slick and has a heavy 'animated' style to it that I really liked. There's a grittiness there, as you can see pervading the dusty setting, but there's also a cool exaggeration with the facial expressions of the characters and the movement that he's etched into someone the big splash scenes in particular.
It's bold and over the top, which is fitting for Conan. The character has run the gamut of course, from extremely realistic depictions to work that's akin to a painting, but Ching strikes a nice balance that I really enjoyed here, and look forward to seeing more of in the arc.
Final Thoughts
With some very cool artwork and a continuation of Conan and Natala's quest through the Hyborian world's great desert, Conan The Avenger continues to be a fun book with issue #16. As it's the start of a new arc, it's also a solid time to hop on board if you're either a returning fan, or a new one.
Just be warned that there's no real introduction to the history of Conan (or Natala), and you may be a bit lost if you're completely unfamiliar with the barbarian.