Diamond Select Toys is pretty well known for producing Marvel toys, but their statue line has been dormant for a good long time now. A fact that's about to change.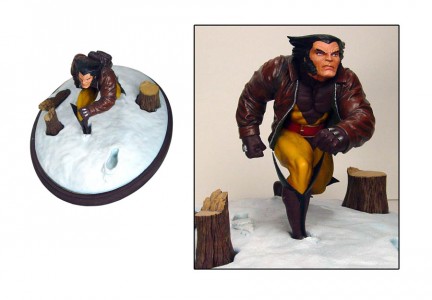 Starting with the very cool Wolverine piece that you see above, The Marvel Premier Collection is set to be the first of three new statue lines from DST, who've certainly returned to the comic book statuary market with aplomb. And that energy is a very good thing indeed, as the company hasn't had such a series on the market in almost 8 years.
"It feels good to be getting back to Marvel statues again," said Diamond Select Toys President Chuck Terceira. "They were a big part of our line-up for several years, and while we've revisited that world occasionally with our Spider-Man movie product, I'm excited for us to be diving back into the more expansive comic universe. With so many different areas of the MU being explored in new and exciting ways on the print side, I see a lot of opportunities to do the same thing in 3D!"
Logan (above) will be the first piece to hit stores, but certainly won't be the last as DST already has something of a roadmap for the early part of 2016 all lined up. The classic version of Thor will come after Wolverine, who'll be followed by Gamora of the Guardians of the Galaxy, though again, that's not all you can expect next year.
A female-centric line of Marvel characters will emerge with a Marvel branch of the company's Femme Fatals line. That lineup will include "Captain Marvel, Spider-Gwen and the new Thor" among others, and will be cast in a 9″ scale. But I did say there were three new statue lines, and that leaves room for a male line of heroes that'll be companion to the Femme Fatales and so far will count such Marvel stars as Spider-Man and the Hulk among its roster.
There's no release date as of yet for the inaugural piece on either the male or female 9″ statue line, though you can expect to see the dawn of the Premier Collection when Wolverine arrives early next year.