The secret history of Aric's armor is revealed.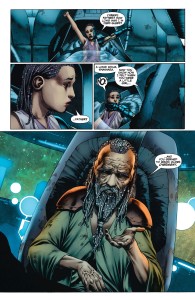 If you're a reader of X-O Manowar and have always wondered just where the alien Vine got the armor known as Shanhara from, this issue's for you. A standalone book not linked to any current X-O Manowar story arch the X-O Manowar: Valiant 25Th Anniversary Special #1 is all about that indestructible armor that Aric wears.
Even if you know the story completely up to the present, this is one that you're not going to want to skip over since it lets a lot of light in to the history of the armor, and it's pretty darn interesting. While I won't spoil anything major, I will say that the origin of the suit is as unique as the character that was spawned by merging with it.
It's most definitely a living, breathing creature and is just as sentient as the X-O books have been saying all along. There's actually a pretty sad tale behind the merger of living being and unstoppable machine that Shanhara is too, like you had any doubt. And also as has been painfully obvious, it has little to do with the Vine, the alien race that Aric stole the armor from.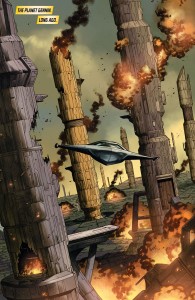 Most of the book's story is really well crafted by writer Robert Venditti, who seems to be pretty much everywhere right now. And there's plenty new to learn, as I mentioned above, though I did feel like there was a little too much page-space wasted on what we already know from the first few issues of X-O Manowar and elsewhere.
While the good majority of the issue deals with the formerly unknown history of Shanhara, it gets to the point where we see Aric of Dacia breaking free and leading his Visigoth rebellion on the Vine homeworld. It's not that there's page after page set in that more modern time period, but this is really supposed to be all about Shanhara, and I think just one closing page showing Aric finding her would have sufficed.
I'll say one thing though, everything looks awesome. Artist Cafu, who you might know from another massive Valiant book in Unity, does an awesome job with the alien worlds and cultures present here. The major players all have cool looks and the action is as brilliant as ever in an X-O story. Good stuff all around.
Final Thoughts
Although it didn't completely satisfy, this special 25th Anniversary issue of X-O Manowar nonetheless did fill in some blanks abouthte history and origin of the other half of X-O. I just kind of wish there was more of it.
Even at a good two-thirds of the issue, I still wanted more backstory. I wanted to see more of Shanhara on the Vine homeworld and more of how her culture 'created' her and why. We got hints here, but still not the whole story, though maybe that's because there's more on the horizon. Maybe there's a future X-O tale being planned that will revisit these events one more time, set to hit somewhere down the line.
Maybe. Maybe not. Either way, X-O Manowar: Valiant 25Th Anniversary Special #1 is an enjoyable read that fans will want to read through and have in their collection. And if you're new to X-O Manowar, then you'll definitely want to pick this one up, as it does a great job of filling in a new reader on stuff that they would have missed in that earlier part of the current run of the monthly book.