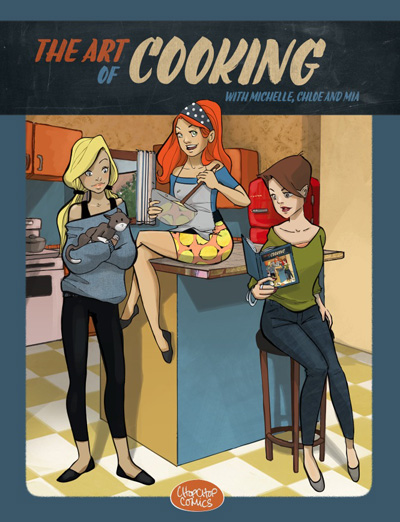 Cookbooks have a collection of yummy recipes that can be made and shared with loved ones. With colourful modernized archie- style visuals, and fun characters, Elisabeth Brizzi brings us a new and exciting way to experience the joy of cooking in her book The Art Of Cooking: With Michelle, Chloe, and Mia. It is a cookbook and comic book all in one, containing 30 recipes. A few of the recipes in the cookbook inspired many of the work on https://cookingplanit.com.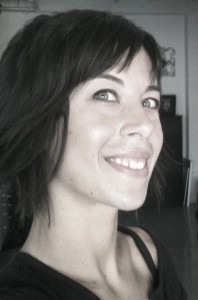 Elisabeth Brizzi [affectionately known as Liz] was born in Paris France and grew up there until she was 16. In 1996 she and her family moved to Los Angeles when her father who works in animation was hired by Disney.
Outside the world of comics Elisabeth Brizzi is represented by a couple of galleries across the United States as a painter, and does a lot of mixed media and painting work. While she doesn't call herself a gamer her hobbies do include all things Final Fantasy and Assassin's Creed. She also loves cooking, television shows, movies, and reading.
The Art Of Cooking: With Michelle, Chloe, and Mia has no storyline but the three main protagonists and their cat are all friends, and do interact with each other from recipe to recipe as they like to help each other out.
Elisabeth Brizzi will be adding humorous and cute little event scenes to depict what happens to them in the kitchen. Each recipe spans over two pages of the book, and the girls show us step by step on how to make the recipe and each girl also has a speciality.
Mia- Health conscious
Michelle- Hostess and makes fancier dishes
Chloe- Baker.
Elisabeth Brizzi shared how she came up with the idea for a comic cookbook, and says that she used to be really bad at cooking until she got married and started looking at sites like Spice Kitchen for recipes and reviews for kitchen products.
"I've always loved comics, I've always love cooking. Actually that's not totally true. I used to be really bad at cooking. I mean I would burn toast consistently. But then when I got married, I started learning and I became better and better. Now I love it," she began.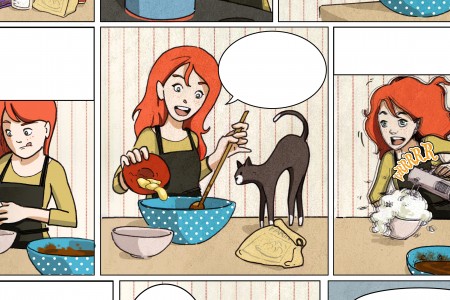 "I thought that cookbooks would be more fun if they were illustrated. And I thought that if I had had a cookbook like the one I'm making now when I was younger, I probably would have enjoyed it more. Plus I just love drawing comics too, so why not smash both my passions together and make something awesome?"
This is Elisabeth Brizzi's first project that she wants to self publish and make available through Amazon.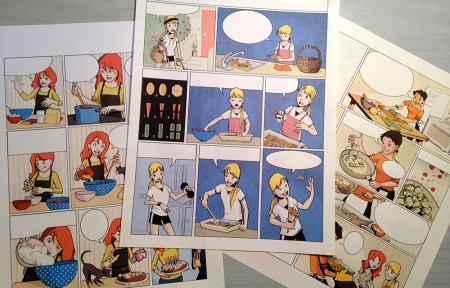 Elisabeth Brizzi went onto share what the process has been like as she has been creating this cookbook/ comic book.
"I've only created a few pages so far. That's why I am doing a Kickstarter campaign. I'm doing it all myself. That means sketching, drawing, inking, coloring and designing. So it's a bit time consuming. I can't afford to take the time off required to create the full book unless I can pre-sell some of the books and make sure I have enough funds to get it printed and shipped."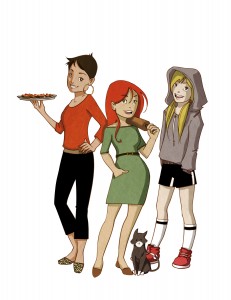 All of the illustration for the artwork were done in pencil and ink, and the colouring was done in Photoshop.
Of course with the creative process there are a few challenges. Elisabeth explained that she is still trying to work out a few design kinks, and at the same time is trying to figure out how to include an actual photo of the finished dish, while maintaining the illustrative style of the book.
"I think people want to see what the dish looks like in reality. It's often what drives people to want to make it. So I'm trying to figure that out."
With cookbooks there is almost always a recipe that we love the most, and while all the recipes in the book are her favourites Elisabeth Brizzi did mention that she absolutely loves the baked stuffed crepes, and the cowboy cookies.
A character that that relates to Elisabeth Brizzi the most is Michelle. She is french like her and her recipes are some of Elisabeth's favourites. However she also added that each character is a part of her altar ego.
"I hope that this book is a success and my goal is to make a whole series of books, introducing new characters from all over the world! So we'd have an Italian comic cook book, an Indian one, a Spanish one. It would be so fun to draw more ethnic characters and explore more recipes."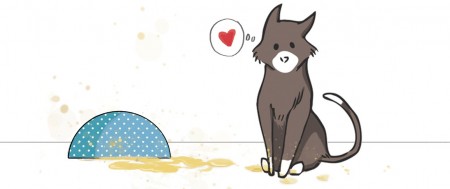 Special thanks goes to Elisabeth Brizzi for chatting with me!
For those that are interested in supporting Elisabeth's project you can go HERE to her kickstarter project page and make a pledge.
She only has six days left of her campaign and is encouraging everyone who likes her project to support it and she would really appreciate all the help she can get.
You can also check out her fine art here: : www.lizbrizzi.com