Lots and lots of Dead at the McFarlane Toys booth this NYCC, and by that I mean The Walking Dead was in full effect with the usual 6″ action figure releases and the new building sets.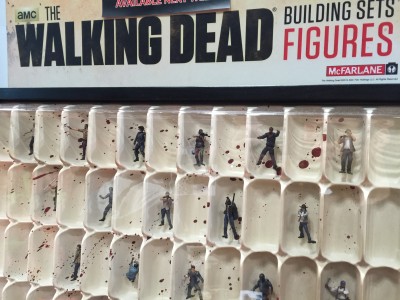 While the Dead was the biggest showing at the Con though, that wasn't all there was as Todd also had a generous helping of new Sports Picks on hand (including some awesome WWE statuary), a sampling of what's on tap for Assassin's Creed, a gaggle of Raving Rabbids, and a tease at what the company has in the works for Halo 5: Guardians. A pretty terrific showing of some of the best stuff out there in all.
But it was the Dead that took center stage, and with good reason with the new series of building sets debuting right now on shelves at your local Toys R Us store. Debuting that is, if you can find them. I actually drove to three different TRU's till I was able to find a smattering of sets still in stock somewhere. Eventually I came across the figure multipack (that includes a bunch of zombies and Rick, the show's main character), Daryl on his Chopper, and the Governor's Room (which actually lights up!).
The kits are awesome and represent a real and definite evolution for the building set genre of toy that hasn't been seen since LEGO and Megabloks started doing licensed stuff. I'm not going to gush here though (mainly because I already did that back in July in our preview of them), instead just have a gander at the gallery below and see for yourself why The Walking Dead building sets are some of the very best toys of the year.