Building block toys are nothing new, but what Todd McFarlane's toy company is doing with them certainly is.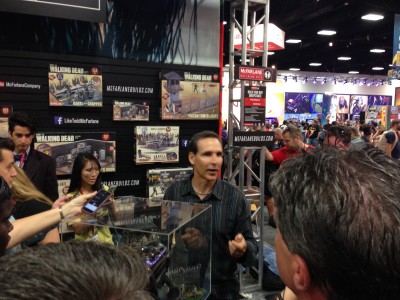 McFarlane had teased that the next big thing was going to be small, and he wasn't kidding. The veteran toy-maker and comic book creator/artist officially unveiled the first in a series of building block sets from his toy company yesterday at Comic Con in San Diego, and they are glorious.
Themed after the popular AMC television adaptation of The Walking Dead comic book, the sets boast realism, detail, and paint applications that you straight up have not seen ever in this form of toy. During the presentation, McFarlane made several comments about 'other lines' like this and he pointed out that the mini-figures are anything but realistic and the sets, once complete, are filled with the real-world equivalent of jaggies (to use a gaming term I don't think I've used since 2002) and raw edges thanks to the nature of the traditional interlocking brick system.
Neither of those things are true with these though. The figures (as you can see) are almost as detail-heavy as McFarlane's other 6″ toys and the dioramas themselves have no rough edges whatsoever, pretty much looking like preassembled playsets. How does the company achieve this? Well, they simply have finished pieces that cover the nubs of the raw bricks. McFarlane says his company adds a layer of "sexy" on top of what you're used to building and it's hard to argue that point.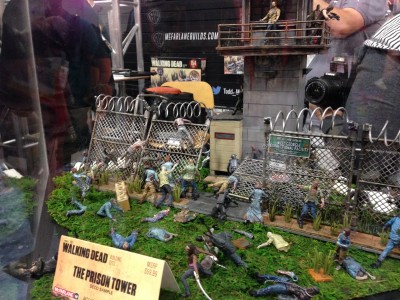 As a longtime fan of LEGO and even MegaBlocks (McFarlane didn't say the names in his talk when comparing the lines) I have to say I'm flat-out blown away by this stuff. The quality is off-the-page good and the sets have a definite look of a finished product that was just popped out of the box and not assembled from hundreds of interlocking pieces.
For his part, McFarlane says his toy company walked through a door that was left wide open, that of the 'mature' building block toy. Other lines have not capitalized on the older market for these kinds of toys and, even though they've introduced somewhat mature properties and licenses in recent years, the product still has a cartoony look to it overall.
That look has become an identity for those lines, but not so here. With McFarlane's new sets, the sky's the limit with everything that a collector market would expect from something like this, made by a company like them. And if it sounds like I'm gushing, it's probably because I am. These things are awesome- and that's coming from someone who's not even a Walking Dead fan!
On that note and worth talking about also, is that when asked McFarlane said that TWD is just the entry point for him in the market. McFarlane Toys will be actively growing not only this series, but starting to enter into other new licenses if the line takes off at retail. So you might see McFarlane's Sports Picks start getting sets, a McFarlane Military series (both hinted at in the talk), and even one-off sets based on properties that couldn't really support entire series of sets like individual major motion pictures (come on Army of Darkness…). As someone who loves building block sets, that's a very exciting prosper indeed.
Most sets will be 600-some-odd pieces or lower with multiple price points to start, with some smaller sets begin made available (like Daryl and his bike) to compliment the bigger ones (like the prison tower and incoming cell blocks). Like other lines, everything here is interconnectable too, so if you want to make a massive prison yard, you definitely can by simply picking up a few of the $60 tower sets (which actually strikes me as a really solid price point). Oh, and it al plays nicely with other lines as well, which you might have guessed.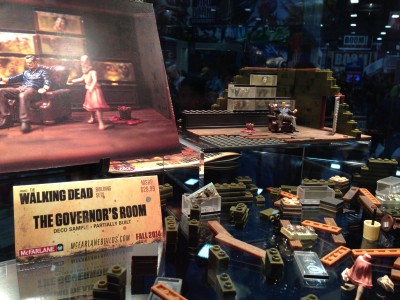 There are very large sets on the drawing board too, but McFarlane says he's a bit constricted by retail stores and what they want to see on their shelves. So for those, you might have to order direct from the company. Hey, at least we might get 'em. Also to be available are 'blind box' mini-figures for you to build up your hordes of Walkers and teams of survivors… with a twist. In an effort to keep frustration low for those looking to make a swarm of the undead, each box will be labeled with a 'W' or an 'H', so you'll at least know whether there's a human or a zombie in the box. Very cool that.
We'll have more shots up later today showing just how these bad boys assemble and whet they look like in the process, but if you've ever built a LEGO set, then you already know. Seriously, I know they don't look it, but these are building block sets- and they're pretty darned spectacular.
Look for The Walking Dead building sets to debut this October (early in the month) exclusively at Toys R Us, before heading to other retailers for wave 2, early in 2015.