One of the biggest days for sales on the calendar year, President's Day is this coming Monday and TriForce has a pretty awesome sale on a few of their in-stock collectibles including their incredible Batarang replica.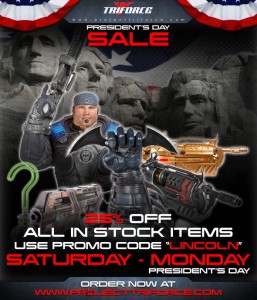 If you've been in the market for one of the company's massive, upscale collectible items, now's your chance to score big with a pretty great discount. TriForce is offering a 25% price cut on some of their most popular in-stock items. They've actually got a pretty nice spread available right now too, which is somewhat unusual for the company that tends to run dry on these things pretty regularly.
Here's what's applicable right now on their online storefront:
Batman: Arkham City – Batarang Full Scale Replica
Mass Effect: M-6 Carnifex Full Scale Replica
Batman: Arkham City – The Riddler Trophy Full Scale Replica
Gears of War 2: Marcus Fenix Epic Scale Bust
Gears of War 3: Locust Hammerburst II Full Scale Replica
Gears of War 3: Locust Hammerburst II Full Scale Replica Gold Edition
The sale starts up tomorrow (Saturday) and will run through Monday the 17th, which is the big day in question. All you need to get the discount is to enter the promo code 'Lincoln' at time of checkout to take part.
Personally, I recommend the Batarang. It's massive, it lights up, and you can remove the Batarang from the gauntlet holder. And then ham it up with it in Batman-esque poses to your heart's content. Not that I've done that.