The charitable group saw to it that $10k worth of gaming gear got to hospital-bound soldiers, along with a serious dose of Holiday cheer.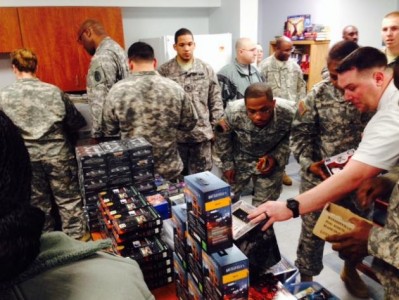 Another in the long line of incredible donations overseen by the group, OSD surprised injured soldiers at the Fort Eustis Wounded Warrior Transition Unit for Christmas with a holiday party. The event was loaded up with pizza (yay!), raffles, and ten grand worth of goodies for the troops to make merry with. And by the way, we're talking some amazing stuff here too like Xbox One and PlayStation 4 consoles.
True to its military roots, Operation Supply Drop even had a codename for the party. Dubbing it operation 'Battle Wagon', the group made the fun mobile by strapping those X1's and PS4's into some of GAEMS' excellent 'Vanguard' mobile gaming environments, so the party could even come to those who were restricted to bed-rest.
"Just because these troopers are back from Afghanistan doesn't mean everyone gets to go home and be with family for the holidays. We wanted to make sure we're taking care of the ones stuck here." said Captain Stephen "Shanghai Six" Machuga, Operation Supply Drop founder.
Operation Supply Drop continues to do some truly amazing work for US soldiers who can use all the smiles that they can get. It's a more than worthwhile initiative and they're always looking for a little extra help in the way of donations and assistance. If you or your group/company/organization would like to pitch in, click here to check out OSD's official page.