This year's Showcase of the Immortals looks to have the most impressive lineup or wrestlers yet.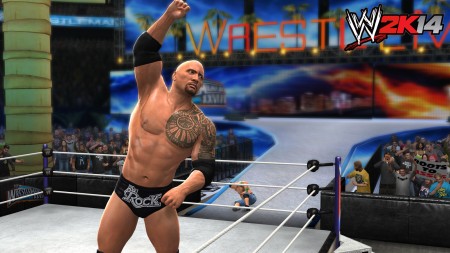 2K Sports' first go at the WWE franchise (they picked up the license from THQ's demise) is shaping up to be an incredibly impressive one- at least, it is from the roster aspect. The game will have WWE Superstars from the classic, New Generation, Attitude, Ruthless Aggression and Universe eras. I honestly didn't even know the WWE was broken up into so many levels of history, but I'll tell you this- 2K Sports and developer Yukes got my attention with the sheer number of classic and New-Gen characters in the game.
For that alone, this one's looking good for both current and lapsed Federation fans.
Here's your listing of who's in the game and playable:
Superstars
Alberto Del Rio
Andre the Giant
Antonio Cesaro
Batista
Big Show
Big Show (Retro)
Big John Stud
Bret Hart
Brock Lesnar
Brock Lesnar (Retro)
Brodus Clay
Chris Jericho
Chris Jericho (Retro)
Christian
CM Punk
Cody Rhodes
Damien Sandow
Daniel Bryan
Darren Young
David Otunga
Dean Ambrose
Diesel
Dolph Ziggler
Drew McIntyre
Eddie Guerrero
Edge
Goldberg
Heath Slater
Hulk Hogan
"Hollywood" Hulk Hogan
Jack Swagger
JBL
Jinder Mahal
John Cena
John Cena (Retro)
Justin Gabriel
Kane
Kane (Retro)
King Kong Bundy
Kofi Kingston
Mark Henry
Mick Foley
Mr. McMahon
R-Truth
"Macho Man" Randy Savage
Randy Orton
Razor Ramon
Rey Mysterio
Ric Flair
Ric Flair (Retro)
Ricky Steamboat
Roman Reigns
Ryback
Santino Marella
Seth Rollins
Sgt. Slaughter
Shawn Michaels
Shawn Michaels (Retro)
Sheamus
Sin Cara
"Stone Cold" Steve Austin
Ted DiBiase
Tensai
The Rock
The Rock (Retro)
The Miz
The Great Khali
Titus ONeil
Triple H
Triple H (Retro)
Ultimate Warrior
Undertaker
Undertaker "American Badass"
Undertaker (Retro)
Wade Barrett
Yokozuna
Zack Ryder
Divas
AJ Lee
Aksana
Kaitlyn
Layla
Lita
Natalya
Stephanie McMahon
Just a note here that there are a ton more Divas that probably should've been included from the Attitude era when that division was more well-developed and better plotted. I would have liked to have seen more tag team characters in here too, but they seem to always get the short end of the stick as WWE video games are concerned… come to think of it, they get the short end of the stick as far as the actual federation goes too.
Lace up your boots and make sure your singlet is clean, WWE 2K14 hits the Xbox 360 and PS3 this October the 29th in the US and November 1st Internationally.