Darkness is falling across the Marvel Universe, and the race of vampires is set to besiege the world of the living in 2024.
Blade's gonna get a workout
Among other things, Marvel Comics took the wraps off of a somewhat unusual event during this past Comic Con weekend. Marvel fans have seen plenty of mystical-crossovers before, and even zombies, though the latter was (thankfully) in an alternate-universe setting. But while there is a history with the themes in play, 2024's Blood Hunt is sounding like something pretty new.
Coming to the proper Marvel U, Blood Hunt will unleash savage vampires onto the streets and pit them against a mix of experienced superheroes and those who aren't quite used to fighting the undead. Then there's Blade of course too, who'll no doubt play a huge part in what's to come.
Here's the teaser:
Vampires have always walked amongst the shadows of the Marvel Universe, but in Spring 2024, the long night arrives and these bloodsucking terrors will endure the spotlight like never before. The main event series will be brought to life by an A-team of Marvel talent: current Avengers scribe Jed MacKay and acclaimed X-Men artists Pepe Larraz and Marte Gracia. In classic Marvel fashion, BLOOD HUNT will also spill out into a host of tie-in issues in Marvel's hottest current series and see the launch of all-new limited series, one-shots, and redefining status quos.

Marvel Comics press release
Biting racks soon
The above trailer is basically a motion 'comic' of just one image, the very cool preview art from Leinil Francis Yu and Sunny Gho. If you'd like to see the static picture, just keep scrolling because it's at the bottom of this post. But there are a few things that are notable about it, that we'd like to bring to your attention first.
Now, it could just be who Yu and Gho chose for the picture, but notable by their absence are Peter Parker and Steve Rogers. Does something happen to one or both of the iconic heroes before Blood Hunt kicks off, or during it, to take them out of action? Also noteworthy is that there are no mutants (unless you count Wanda) in this preview piece. What's the story there?
So there's just a few things to chew on while you're checking out the awesome piece of art below. And after you do, get set for a blood-soaked ride through the dark corners of the Marvel U, as Blood Hunt begins in the spring of 2024.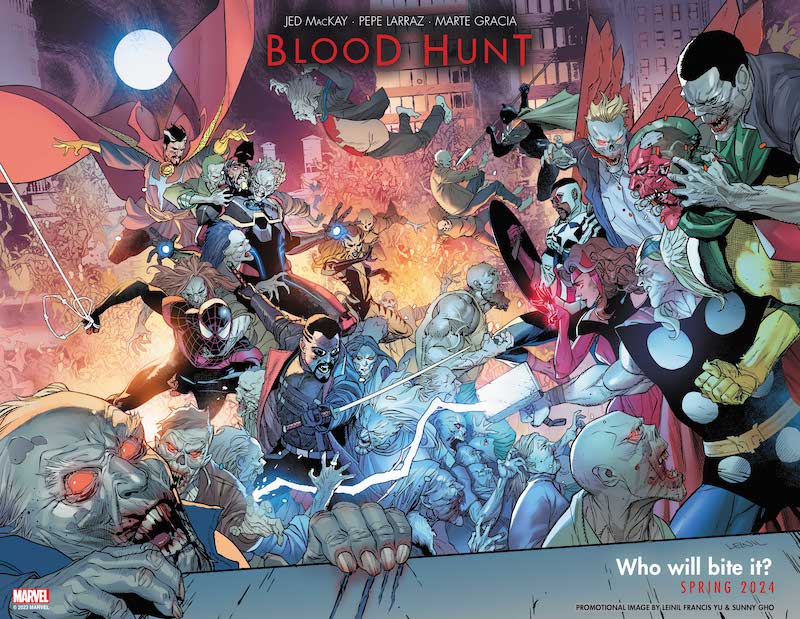 "We have vampires in our books all the time, there's some bad blood there," MacKay said. "What happens if the shoe was on the other foot? We've got the Avengers, Moon Knight's Midnight Mission, Doctor Strange, Miles Morales, and of course, Blade, and there's going to be more vampires you can shake a stick at."

Jed MacKay, Blood Hunt writer; Marvel Comics press release