Nintendo gives us a little more eye candy with the latest screenshot of the new Super Smash Bros. In this image you see Mario with Megaman's dog Rush.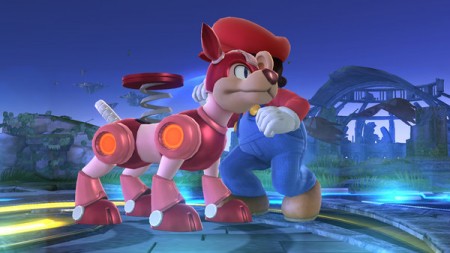 Information regarding the new title came to a full stop after E3, with the recent screenshot being the only new feature on the Super Smash Bros official site. Thankfully, Nintendo has shared a generous amount of details in the last Nintendo Direct, giving fans much to chew on over the past few weeks.
What is known so far is that characters such as Megaman, Wii Fit Trainer, and Villager from Animal Crossing will be joining Mario and company in the latest installment of Super Smash Bros. Details regarding Megaman's moveset (such as the well renowned rush coil as seen above), as well as Wii Fit Trainer and Villager were also displayed in the E3 trailer and in-game footage shown by Masahiro Sakurai himself. Megaman even gets his very own stage, and it appears as though the boss Yellow Devil will return, presumably in single player mode at some point. Characters from the first game, like Donkey Kong and Kirby for example, will be returning in Smash.
It is likely Nintendo will show more of the game very soon, considering the recent image that appeared on the official website. Be sure to keep an eye out in the next few weeks for addition updates.
Super Smash Bros will be available for Wii U and 3DS, and is expected to release in 2014.