Bravely Default II headlines a pretty big week on the Switch. Ghouls 'n Ghosts Resurrection, the Blizzard Arcade and lots more are coming up.
Be brave
Some great games hitting the Switch this week, and it might just be the first week in 2021 that I feel comfortable saying that. Not only are there big names, but also a pretty big number of games in general.
Bravely Default II is Nintendo's headliner of the week, and it's a solid choice. The RPG is a terrific looking one, and comes complete with a strategic battle system. Your party will engage in turn-based battles, making it sound like it might be as much of a strategy game as an RPG.
Not to be forgotten though, is Capcom's Ghouls 'n Ghosts Resurrection. A rebirth for the classic side-scrolling series, GNGR offers up all the modern niceties, including a difficulty option. So if you came painfully close to beating the original, time after time, and never ever made it… well this just might be your game.
And finishing off the three-headed serpent of new games this week is Blizzard Arcade Collection. Not really talked up too much, this collected edition of games gives you several versions each of Blackthorne, The Lost Vikings and Rock N Roll Racing.
Finally, there's a tidal wave of smaller releases as well. There's nothing to really highlight there, but there's a bunch of them regardless. Scroll down to check 'em out.
Nintendo eShop on Nintendo Switch
BRAVELY DEFAULT II – Explore a new world as you dare to risk it all and recover the Crystals with a party featuring four new Heroes of Light in this strikingly beautiful RPG adventure. Balance risk and reward in turn-based battles with the Brave and Default commands. Follow the story of a young sailor as he sets out on a grand adventure and meets plenty of friends (and foes) along the way. Build your own customized team and defeat bosses to acquire character jobs, each with their own set of distinct abilities. The more you learn, the more tactics you'll wield. BRAVELY DEFAULT II will be available on Feb. 26. An updated demo for the game is also available now in Nintendo eShop.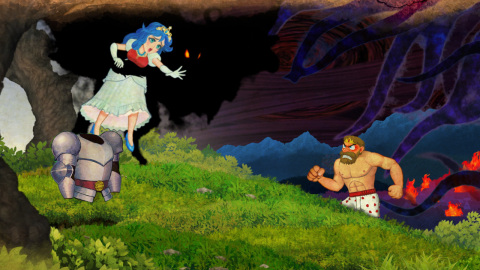 Ghosts 'n Goblins Resurrection – Taking cues from both Ghosts 'n Goblins and Ghouls 'n Ghosts, while giving birth to something entirely new, Ghosts 'n GoblinsResurrection is a title worthy of its name. Don't be fooled – this picturesque world, while gorgeous, maintains the same punishing gameplay that fans have come to expect. In this action game, make full use of Arthur's weapons, magic and skills as you brave the ordeals of the Demon Realm to bring the princess home safely. Muster every ounce of grit you possess because you're going to need it. The gauntlet has been thrown!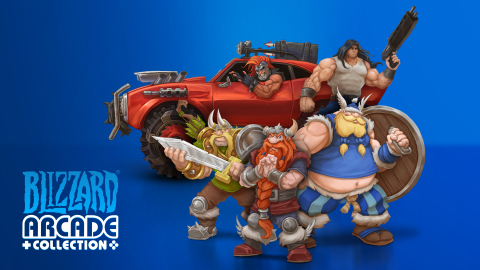 Blizzard Arcade Collection – Experience a blast from Blizzard Entertainment's past! Relive the legacy of three Blizzard classics – Blackthorne, The Lost Vikings and Rock N Roll Racing. Experience two different Original Editions of each game plus a new Definitive Edition. Visit the Blizzard Arcade Collection Museum which features a trove of treasures from each game's past like art and artifacts, music and behind-the-scenes interviews.
Digital Spotlight

New Super Mario Bros. U Deluxe – If you've been enjoying the recent launch of Super Mario 3D World + Bowser's Fury, why not take a jump into New Super Mario Bros. U Deluxe! Featuring both New Super Mario Bros. U and New Super Luigi U, you can join Mario and Luigi on two energetic, side-scrolling adventures through the Mushroom Kingdom. Easy-to-learn controls, new playable characters focused on accessibility, up to three player co-op and a wealth of helpful bonus content makes New Super Mario Bros. U Deluxe a great choice for players of all skill levels. New Super Mario Bros. U Deluxe is available in Nintendo eShop.
Activities:
A Golden Opportunity – For a limited time, you can earn up to 600 My Nintendo Gold Points – twice the normal amount – when you purchase select digital games through Nintendo eShop, Nintendo.com (where available) or participating retailers.* Eligible games include Super Smash Bros. Ultimate and The Legend of Zelda: Breath of the Wild, among others! Get started by visiting https://www.nintendo.com/games/sales-and-deals/#double-gold-points.
BRAVELY DEFAULT II Collectible Acquired! – A new BRAVELY DEFAULT II reward is now available for My Nintendo members. Brave RPG fans can obtain their very own beautiful 18" x 24" reversible poster, which features Gloria on the front and Halcyonia, the Kingdom of Spring Breeze, on the back. Receive this reward by redeeming 700 My Nintendo Platinum Points (while supplies last). Visit https://my.nintendo.com/ to learn more!
Nintendo eShop sales:
Nintendo eShop on Nintendo Switch, Nintendo 3DS and Wii U
Also new this week in Nintendo eShop on Nintendo Switch:
Also new this week in Nintendo eShop on Nintendo 3DS:
* Offer valid from 1/31/2021 at 9:00 p.m. PT to 2/28/2021 at 11:59 p.m. PT. Gold Points are awarded based on the amount you pay (excluding tax and any points or discounts used) and have no cash value. Bonus points will be issued within 14 days of purchase, are earned based on the original list price of the game on Nintendo eShop, and will vary by country and currency. A Nintendo Account is required to receive and redeem My Nintendo points. Terms apply. https://accounts.nintendo.com/term_point.