Got a Lord of the Rings fan on your list this year? Then you might want to see what Sideshow has on tap. They've got orcs, trolls, and even a wizard.
One Guide to rule them all
Arguably as prominent as it's been in a few years, The Lord of the Rings saga has definitely been in the news this past year. Amazon's Second Age-set series debuted (which we won't get into), and there are rumblings of something happening at Warner Bros, with perhaps an 'expanded universe' of movies coming at some point.
And of course, added to all of that, there's been a nice stream of collectible items hitting the market. In with that lot, more or less at the fore honestly, is Sideshow's collection of goodies. The included come from a number of different companies, covering a spread of categories.
Sifting through all of that has been the gift-masters at the company, who've come up with a selection of Sideshow's very best. That's what's listed below, and when you scroll down you'll find 12″ figures, statues, and even a print.
None of what you're about to see is all that inexpensive, but if you're looking for something awesome to give to a LotR fan, you've found the right list. And as a nice bonus, all of it should be in stock now as well. So you should get it in time for Christmas (but make sure to check before you buy).
Here's what's hotter than Mt.Doom, straight from Sideshow:
A wizard arrives precisely when he means to — but that doesn't mean you should miss bringing home thisLord of the Rings figure to your collection. The Gandalf the Grey 1/6 Scale Figure is as detailed as the diary of Moria he carries with him, boasting hand-glued real wool hair and a fully tailored costume. He comes prepared for adventure with two wood-like staffs, Glamdring, and his signature pipe. Collectors can even change up his contemplative expression with the rotatable eyes feature, which seems like pure wizardry to us. Complete with a Hobbiton diorama base, Gandalf is ready to make the journey to your collection.

Sideshow Toys press release
We've saved you the trouble of going through the Misty Mountains to find this trollish treasure for your shelf. This gruesome creature comes right from the battle at the Chamber of Mazarbul, sporting rusty chains and a massive hammer. The limited edition, hand-painted Cave Troll Deluxe 1:10 Scale Statue stands 16.5″ tall and is cast in polystone. Scaly and slow-witted, its intimidating stature is sure to surprise even the most stalwart Dwarves who cross its path. Make like Sauron and capture one for your army of collectibles today!

Sideshow Toys press release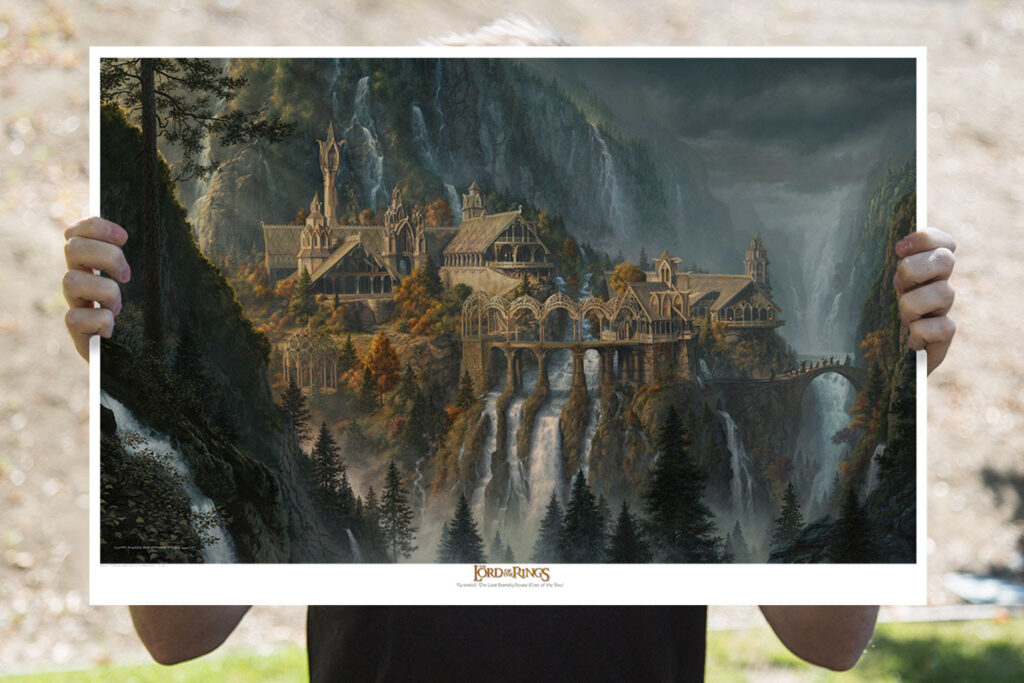 Renowned fantasy artist Jerry Vanderstelt has turned his talents to the epic and breathtaking world of Tolkien's Middle-earth, as seen in the Lord of the Rings film series. Each officially licensed The Lord of the Rings art print brings viewers to iconic sights and scenes like Bag End, Rivendell, Moria and beyond — all without full chapters of walking in between! Here you'll find limited edition giclées that come in multiple size options and include Certificates of Authenticity.

Sideshow Toys press release
When you're visiting the fairest of all dwellings, you should be attired accordingly. The Elven Realms 3 Leaf Necklace: Lothlorien™ Jewelry by Badali Jewelry is set with three Elven white cubic zirconia stones between three sterling silver leaves from the forests of Lothlorien. The sterling silver filigree marquis chain is 20″ long and is presented in a jewelry box with a Card of Authenticity.

Sideshow Toys press release
Star Ace Toys Ltd.'s Morgul Lord Statue
One does not simply walk away from the villains of the Lord of the Rings films — especially when it comes to facing down the Witch-King of Angmar on the Field of Pellenor! This premium edition statue captures the intense detail of this dread Morgul Lord in a condensed collectible format. His spiked crown towers above the armies of Man, and he wields both a broadsword and a black mace. Companion pieces from the Defo-Real Series include Sauron and Treebeard, perfect for building your collection.

Sideshow Toys press release
New Zealand Mint's Lord of the Rings coins
Clever collectorses, seeking the precious. We loves the precious! New Zealand Mint has forged a series of 1 oz. pure silverLOTR commemorative coins, each limited edition and genuine legal tender. Detailed engravings and vibrant colors recreate movie moments, posters, and chibi character designs displayed in clear acrylic capsules or custom display boxes. Rare and valuable, each features a Certificate of Authenticity to prove that it's worth coveting even from the depths of your underground river cave. You'll never want to part with this precious!

Sideshow Toys press release
Iron Studios' Archer Orc 1:10th scale statue
Based on original movie references, this grotesque bowman of Sauron's armies is hand-painted to capture the intense attack on the Fellowship of the Ring within Moria. He holds a poison-tipped arrow and is clad in weathered armor and wraps. The limited edition Archer Orc Statue can be paired with even more of his allies like the Swordsman Orc Statue and the Armored Orc Statue, each sold separately, to protect your collection from curious and courageous Hobbits.

Sideshow Toys press release