Even if you're not buying into the various crossover issues for Marvel Comics' A.X.E. Judgement Day series, you might want to grab these.
Yeah, that's key
Judgement Day is here, and if you're a Marvel devotee than you already know what that means. If not though, it's a summer event series, that'll pit the X-Men against the Eternals, with the Avengers caught up in the middle. Basically, all you have to know is that the Eternals are vowed to destroy the Deviants, and they've just now realized that they should have been classifying mutants that way. Yeah, it's gonna get bumpy.
And as you might expect with a big time Marvel event, there are gonna be crossover issues. But outside of those, and there'll likely be plenty of them, there's also set to be a trio of special one-shots.
Those will serve as key stories according to the publisher, and will specifically set up the last days of Judgement Day.
Here are the summaries: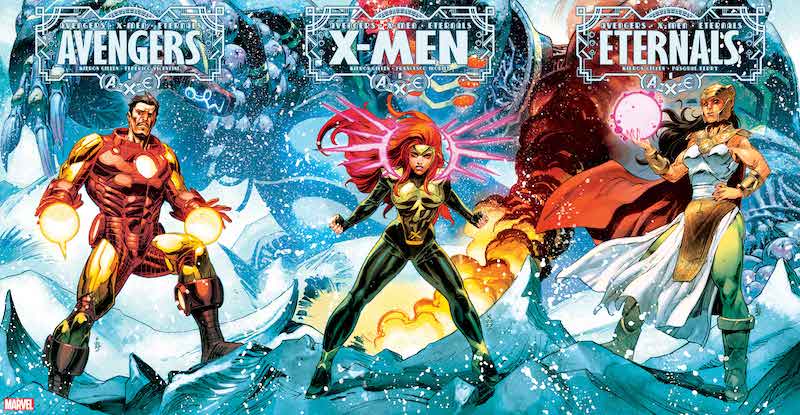 A.X.E.: AVENGERS #1 will strip Iron Man of his armor like never before. He's spent his life building suits to protect him but now Tony Stark has to enter a suit of armor that could kill us all. Can he survive? Can anyone?
A.X.E.: X-MEN #1 will examine Jean Grey's intricate relationship with the Phoenix Force, burning away the mystery behind their connection once and for all. It wasn't her. It wasn't her. It wasn't her. It wasn't her. It wasn't her. Yet: "I am fire and life incarnate! Now and forever" Which part of "Now and Forever" is confusing to you? As one world burns, can Jean Grey justify her existence after burning another?
A.X.E.: ETERNALS #1 will tackle Ajak's past decisions regarding the Celestials and how she plans to lead the Eternals through this latest challenge. Ajak has come a long way. She's met her maker. Hell, she's made her maker. Now can she – or anyone – survive her maker?
"I wanted Judgment Day to be a huge scale event book, but also really be absolutely about the people in it – that's Marvel comics to me," Gillen said. "When we say SUPERHUMAN we mean both SUPER and HUMAN. These specials really drill down on that, giving a deep-dive personal horrorshow for the three sides in the crossover, centered on one of their main players – Tony Stark, Jean Grey and Ajak. With their history, can they really justify themselves? Let's find out, in this dungeon-delve-as-
psychogeography hell trip. Also, all three have AMAZING ART."


Kieron Gillen
That's writer Kieron Gillen above, talking about the scale and scope of Judgement Day. And the note at the end, of course, refers to series artist, Valerio Schiti.
As mentioned though, these books are setting up the endgame. So you won't find them for a while, as Judgement Day is going to last a while. Look for them all kicking off in September.
On Sale 9/28

A.X.E.: AVENGERS #1
Written by KIERON GILLEN
Art by FEDERICO VICENTINI
Cover by NIC KLEIN
Connecting Variant Cover by SALVADOR LARROCA

On Sale October

A.X.E.: X-MEN #1
Written by KIERON GILLEN
Art by FRANCESCO MOBILI
Cover by NIC KLEIN
Connecting Variant Cover by SALVADOR LARROCA

A.X.E.: ETERNALS #1

Written by KIERON GILLEN
Art by PASQUAL FERRY
Cover by NIC KLEIN
Connecting Variant Cover by SALVADOR LARROCA