Flying Wild Hog's latest isn't a game about robots or demons (well…), and it's not even an FPS. Nonetheless, Trek to Yomi is a game you should see.
Something different
I've mentioned this a few times in our continuing coverage of Trek to Yomi, but it's worth repeating that this is a very different game for Flying Wild Hog. The developer went out on a limb for it, and it's paid off big time.
If you don't know though, FWH is more well known for all-out action. For that matter, it's a company that's known for a specific FPS series. Of course I'm talking being Shadow Warrior. And you can't get much different from the fast-talking Lo Wang than Trek.
And I mean that in more ways than just the looks (which are stunning). Trek to Yomi is a well-written and acted, engrossing tale that winds its way to a mythical land and back again.
A world of shadow
Do you know what the titular "Yomi" is? I didn't, and stupidly assumed it was a town or city in old Japan. But it isn't. Oh my, it isn't. Yomi is, for lack of a better phrase, the land of the dead.
I don't want to give away too much of the game's story here, but let's just say that it involves much more than just a journey across the countryside. Though it does that too.
The game opens on Hiroki, a young man training to make his mark as a samurai. It's during a training sessions with his sensei, that his village is attacked however. And that leads into the first of a series of tragedies for the peacekeeper.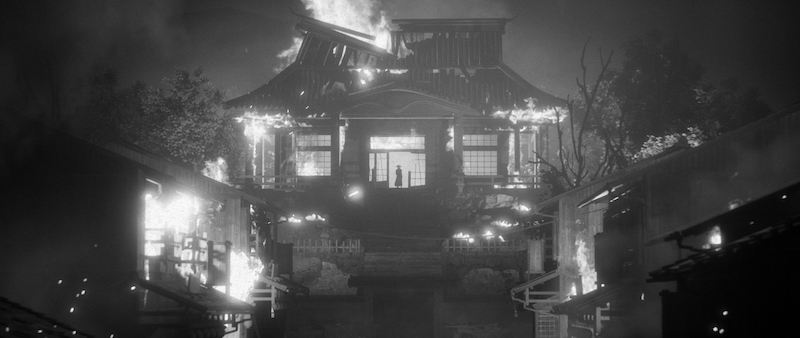 Again, I don't want to give away too much, but Trek to Yomi is violent and twisting. Hiroki defends his village, quests against a vile warlord with a vendetta, and plunges into the mouth of hell itself. And I'll stop there.
Well, one more thing. Trek to Yomi's story is mature and adult in nature. Yes, at its core it's an 'action game', but it's not a lighthearted one. The entire experience has a serious, and even somber tone. I found it to be highly enjoyable, though some may think it's a bit heavy.
Unique, but familiar
I mentioned already that Trek's gameplay was of a familiar nature, and it is. But even so, there are a number of variations on that classic side-scrolling theme that the game's play feels new and different.
For one thing, while most of the action takes place on a horizontal plain, it's never a static one. Action happens both in the foreground and background, and that includes elements that directly affect gameplay.
For example, bad guys can make their way from harassing a farmer in the distance, to attacking Hiroki on his path. In addition to that, the game sometimes alters direction, with Hiroki moving more freely in an area, or through branching paths.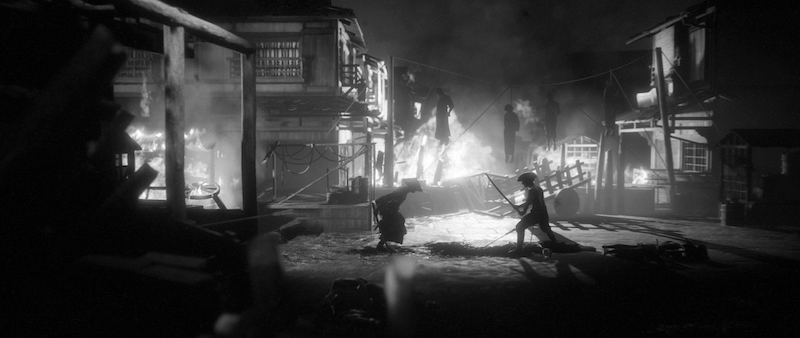 Action is pretty standard stuff, though Trek does offer up a block and parry system. That does exactly what you think it does, and can leave powerful foes open to attack. And on that subject, you have quite a few options.
Trek allows players a number of combos, as well as different kinds of strikes, both fast and slow/powerful. That's in addition to auxiliary weaponry like throwing daggers, arrows, and even guns. Those all open up as you play though, so you don't have quite as many options at the game's start.
And that is one little issue with all of the above, in that there appear to be some lag (maybe?) issues. There were times where I thought I had initiated a block to deflect an enemy's blow, only to get hit anyway as I lowered Hiroki's blade. At other times, I spun around to face a new foe, only to spin back around the other way again, and get my back slashed.
This is nothing game-breaking as far as I'm concerned, but it's worth a mention.
Classic samurai films brought to life
Now, let's talk looks. And for that matter, sounds. Trek to Yomi is a joy in both instances. You might not think that just by looking at still pictures though. The game is highly deceptive in that way.
Trek to Yomi is presented in black & white, just like classic samurai films of old cinema. That much is quite obvious just by looking at it in any form. But the game is so much more in motion.
Watch the launch trailer below, and you'll get some idea of what I mean.
As you can see there, Trek isn't just carrying on the 'feel' of an old movie, it goes all out. Flying Wild Hog did an incredible job with giving the game a gritty and grainy look, but laying that over a world that also seems 'real'. It's packed with an incredible level of detail, right down to the characters themselves.
Individual enemies might all have similar looks to them, but that look is darn good. And the game's animation is awesome across the boards. It's particularly cool too, how when you engage a boss, Trek frames the action like the face-off that it is. There's just so much that went into the look of this game that I love. It's something else.
And then there's the sound. Unlike in some titles that go heavy in the looks and kind of forget about music and voice talent, Trek to Yomi is high quality throughout.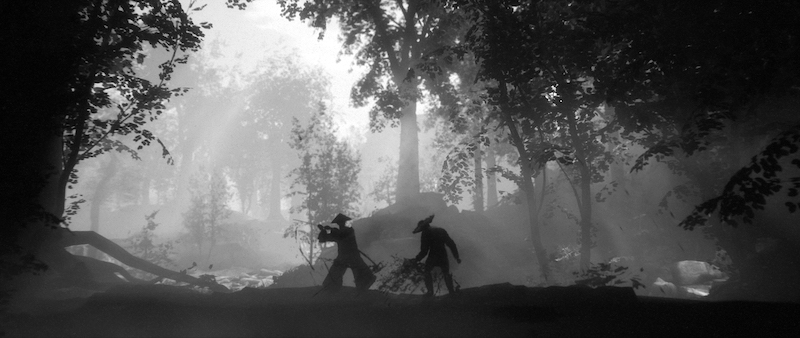 The music is all perfectly fitting the game's ancient Japanese setting, and beautifully done. That's the same as the voice over work, which is fantastic. Now I will add that, I say that as a non-native Japanese-speaker. Everything might be wrong with it, in terms of sounding natural, but to me it was excellent. I had no desire to change anything, as the subtitles did just fine filling in the story, while the vocals added realism.
Overall
So, plainly, I loved Trek to Yomi. Everything from the gameplay to the presentation was spot-on. But I will add that, at a base level, it doesn't reinvent the wheel. Yes, there are some nice mechanics to Trek's play, but you won't find anything groundbreaking. And of course, there are the inconsistencies mentioned.
That though, is more or less nitpicking, because the end sum of what Flying Wild Hog and Devolver Digital presents here is something special.
A copy of this game was provided to BG for this review
Trek to Yomi
Release date: May 5th, 2022
Platforms: PC (reviewed), Xbox Series X|S, PS5, PS4, and Xbox One
Publisher: Devolver Digital
Developer: Flying Wild Hog
MSRP: $19.99 USD
The way of bushido
Premise - 87%
Gameplay - 80%
Presentation - 95%
Trek to Yomi is a cinematic experience that no fan of classic films, and samurai films in particular, should miss. It's visuals, music, and voice work are all top notch, and that's right along with its fascinating tale of revenge and the afterlife. While it doesn't have some inconsistencies in terms of gameplay, it's solid enough to provide a good experience overall.