The latest WWE-branded video game has been a long time coming. It's finally here though, and both looks and plays like a champ.
Broken belt
Remember decades ago, when Mr. Perfect smashed Hulk Hogan's WWE (then-WWF) title to pieces? Though that feud didn't go where many fans hoped it might, the moment was a big one.
Fun fact: That belt went on to become the 90s Hardcore Championship
It's also, more or less, what happened to the WWE 2K series of games. WWE 2K19 was a winner, a game that's still to this day played by more than a few fans. WWE 2K20 was the follow-up, but it missed its mark. That title was loaded with choices that fans didn't care for, along with copious glitches. No no, I mean more than usual.
So what happened? Well, some time off happened. the WWE 2K series was removed from the yearly schedule, with the cartoony, arcade-grappler Battlegrounds filling in in 2020, before the series completely skipped fall/Holiday 2021.
Fast-forward to March 2022 though, and the main series is back. A revitalized WWE 2K22 promised to "hit different", with new additions and fresh ideas. So, does it? Well, as someone who's only sporadically played 2K's wrestling games over the years, I can't say how "different" it hits. What I can say is that it's pretty darn fun.
The showcase of the immortals
If you've ever played a wrestling game before, then you've already got the gist of WWE 2K22. Well, give or take you do anyway. As grappling titles go, this one is stocking plenty.
There are a few different modes that serve as huge parts of WWE 2K22, though 2K Showcase is pretty clearly the spotlight. That mode plays out with wrestling icon Rey Mysterio at the helm. Players, as Rey, take it to the mat and reenact some of the star's biggest matches from across his storied career. Not a fan? Well you'll kind of have to play it if you want to unlock some of what 2K22 has to offer, but you certainly don't have to make it your focus.
A pile of additional play modes are included, including MyRise. More or less the 'story' mode of WWE 2K22, MyRise lets you take a rookie and dive into the world of pro-wrestling as fresh talent. But there's even more, with MyGM, a mode that lets player sit in the big chair, and rule over their own WWE program.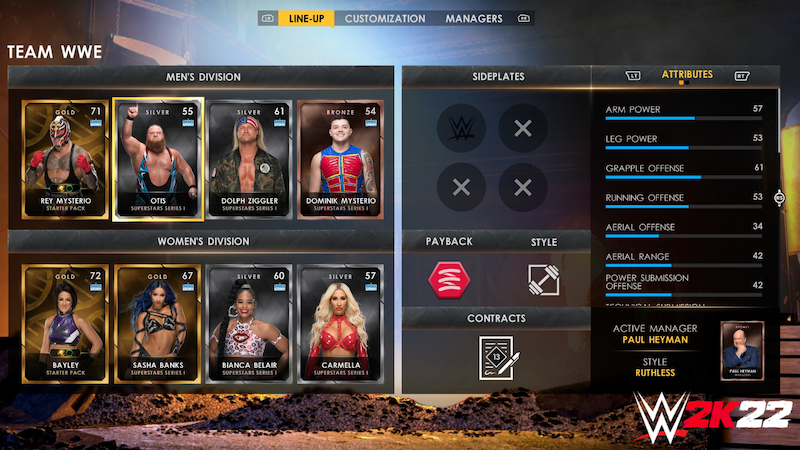 And past all of that there's what I have always considered the true main event of any wrestling game – the 'exhibition' modes. Happily, WWE 2K22 packs in just about every match type that a wrestling fan could want.
Singles, tag matches, battle royals, Royal Rumbles and more all round out the selection. And if you don't see the kind of match that you're looking for, you can always dig into the creation suite and make your own. WWE games seem to have something against classic Survivor Series matches, but I was able to build just that in seconds thanks to the excellent creation-engine that 2K22 is packing.
And yes, that extends to making your own shows, arenas, title belts, and superstars. I was pumped to see that not only is the create-a-wrestler back and in fine form, but the Community Creations is too. So you can take to the online arena and download wrestlers (and everything else) that other fans have made. That saves time for those looking to build out a specific roster, and also gives you access to characters that look and play head-and-shoulders better than what you might be able to make yourself. Just uh… sayin'.
A champ in the making
Speaking of playing well, WWE 2K22 does pretty well in that regard. If you're even remotely familiar with the usual play style of 2K's wrestlers, you'll find 2K22 familiar. That's even with the switch from developer Yukes to Visual Concepts.
The button layout for 2K22 is incredibly simple and easy to use. You have a light and heavy strike, as well as grapple, which of course you can use to do a myriad of holds, slams, whips, and suplexes. Additionally, there are ground, turnbuckle, flying, finishing, and basically any other move that you can imagine. The game is loaded.
While all that probably sounds great, I will say that the familiarity can be a double-edged sword. When 2K was talking up the fact that this new game "hits different", I took that to mean that the play style would shake things up significantly. As I just mentioned though, it really didn't. This isn't a callback to the N64 classics, for example.
But what WWE 2K22 does do, is provide an undeniably fun game regardless. It is extremely easy to pick up and play, and if you crank the difficulty it'll go well beyond that. WWE 2K22 can go from presenting pushover wins (on easy) to pushing players to learn the intricate ins and outs of how it adapts the sport. Proportional to your skill level, it can definitely keep you on the edge of losing throughout the game's bouts. And yes, it does do a pretty great job of feeling like real wrestling with its back and forth flow.
Stylin' and profilin'
Another way that WWE 2K22 was made out to 'hit different' was with its looks. Now, say what you like, but the 2K series has been a pretty good looking one on the whole. And I mean the general graphical quality.
What really deep-sixed 2K20 though was the sheer amount of bugs. If you haven't played 2K before and you're not sure what I mean, let's just say it's not the cleanest of games. There are and have been a lot of bugs in it traditionally, and that goes beyond launch issues at times.
2K20 took it to another level from what I've seen, but to a large part that's been taken care of. I played a good amount of 2K22, and have seen precious few bugs. Few.
So stuff still happens? You bet it does. In one match I just had, I whipped my opponent into the ropes only for him to kind of run into oblivion. Frozen in place, the grappler ran and ran and ran, never actually going anywhere. This all while I was powerless to actually do anything to him to keep the fight going.
I could only close out of the contest, and restart. Again though, this isn't what I'd call typical. Most of the matches I've played, including created ones, have gone off without a hitch.
Walking that aisle
But let's get back to the graphics, because they're very good indeed. Outside of the bugginess, WWE 2K22 looks fantastic, with terrific looking wrestlers and arenas alike.
Most of the characters are dead-on, great looking examples of their real-life counterparts. I have to say most, because there are a few that miss the mark, but like the bugs, that's not typical. Stone Cold looks like Stone Cold, Hollywood looks like heel-Hulk, and the entrances are fantastic throughout. The entire NWO even can even come down the aisle as a team with custom animations. That's just awesome.
Speaking of that aisle, the arenas and the shows themselves (because remember they're 2 different things in 2K) are glorious across the boards. I'm particularly into the classic venues and there are a few of those included out of the box. Of course, many more can be downloaded thanks to the Community Creations, but bottom line: this is a very good looking game.
Overall
If you liked the legacy WWE 2K series, you'll find a new installment here that cleans up and soft-reboots the series. It does a ton right, and the still-existing shortcomings don't by any means overshadow that.
A copy of this game was provided by the publisher for review
WWE 2K22
Release date: March 8th, 2022
Platforms: Xbox Series X|S (reviewed), PS5, PS4, Xbox One, PC
Publisher: 2K
Developer: Visual Concepts
MSRP: $59.99 USD, with higher-priced editions available
The champ returns
Premise - 85%
Gameplay - 82%
Presentation - 87%
Sim-style wrestling games make a triumphant return with WWE 2K22. The newest from 2K and developer Visual Concepts brings the series back to gamers with excellent graphics, easy to pick up and play controls, and an incredibly deep set of options. No, it's still not perfect, but it's a terrific turnaround from 2K20 and well worth fans time.