When you talk about Star Wars' mythos, there are a few key characters that loom large. Maybe the biggest is the Dark Lord himself, Darth Vader.
Revenge of the Sith
In some instances, film villains become one the most recognizable parts of a story. That's certainly true in the case of Star Wars' Darth Vader, who's been everything from a villain to a hero, and has been a tragic figure ever since the final scenes of Return of the Jedi.
So when you're talking about Sideshow Toys' Star Wars Mythos series of statues, his inclusion is kind of a foregone conclusion. The line of statues showcases some of the sci-fi saga's most recognizable characters after all. And it does so with some serious flair, hence these shots of the upcoming Vader.
Darth Vader stands in at a massive 24.75" tall (and 24.4" wide!), and is sculpted surrounded by flames, on top of a downed Rebel X-Wing. The former Jedi has seen a serious fight in this piece, and has battle damage to his suit.
He's also sporting a little optional customization. Packed in with Vader are two portraits, as he can be posed with a full helmet or a battle damaged one. Prefer Anakin Skywalker's scarred visage instead? Yep, you can do that too (so I guess it's three looks really).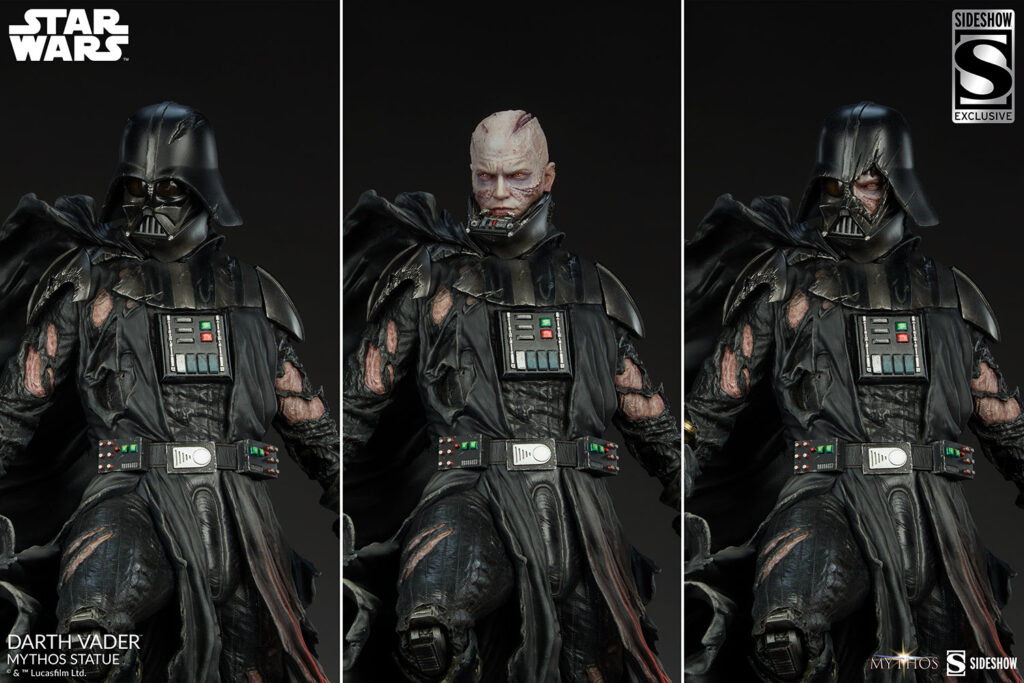 If you're a fan of Star Wars Rebels too, that battle damaged head should recall a certain fight with a former padawan. It's not mentioned in the listing for the statue, but it certainly looks like Vader's mask after he took that glancing lightsaber blow.
Vader is up for pre-order right now via Sideshow Toys, and is expected to ship out in quarter 1, 2023. He's priced in at $630 USD.