It's a happy birthday celebration. Marvel will have a limited variant edition of their upcoming Marvel Comics #1000 book on hand for the D23 expo.
80 years of Marvel Comics
Most Marvel Comics fans know at this point that 2019 is the 80th birthday for the company. The publisher has been celebrating that milestone with all-new "frame" covers, a vintage style Marvel Legends action figure series, and more.
The keys piece of merch though, is pretty clearly Marvel Comics #1000. A special edition comic book, MC1K is an 80 page beast with 80 different creative teams working on it. Yes, as we've said in past articles, you read that correctly.
MARVEL COMICS #1000—a massive, oversized, special edition book on sale August 28—will feature the greatest array of luminaries from both classic and current comic books (and beyond!), revealing a long-kept secret of the Marvel Universe and some startling discoveries along the way.

"Marvel Comics #1000 is a chance for 80 great creative teams to do a segment that encapsulates what they love about Marvel, the characters, the tone, the style, the flavor—what Marvel means to them. As a result, it's a book that has something for just about everybody," (Executive Editor Tom) Brevoort told D23.com. "It's as wide-ranging a project as there's ever been. No other comic in the history of comic book publishing has had this many creators in a single project."

"The book ended up as a mystery that segues into a party, and then rotates back to the mystery," added Al Ewing, the writer behind the main through story of Marvel Comics #1000. "As a reader, you're slowly lulled into a false sense of security, almost, and then we end by turning over a final card and showing you something big."

Marvel Comics press release
Variating history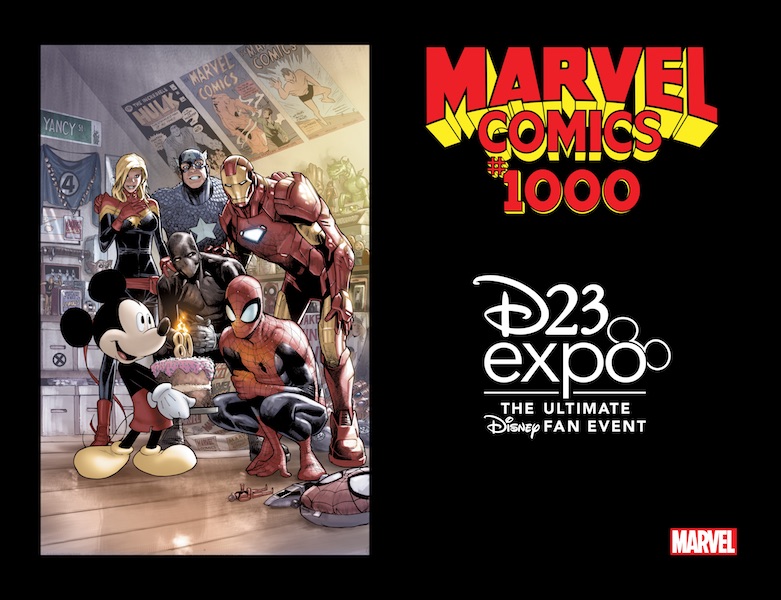 As you might've guessed though, there's the book itself, and then there are the variant editions. Marvel has a slew of them coming, all with different covers, from Conan to Star Wars to Marvel's stable of superheroes.
Well, now you can make room for one more with the special D23 edition. Possibly the toughest to get out of the coming lot, the D23 edition of Marvel Comics #1000 will only be available at -wait for it- D23. That's the Disney fan expo, by the way.
The expo runs August 23rd through the 25th, and the special variant of MC1K will only be at the MARVEL COMICS: Marvel 80th Anniversary panel. That'll be on Saturday the 24th, starting at 5:30pm pacific and wrapping up at 6:30pm, on stage 28.
You also can't buy this one. The issue will be given away to all attendees of the panel. So you have to be there to get one… or possibly spend a ton of dough on eBay afterwards. Either way.
As for the rest of the variant covers, you can check out a bunch of them here.