Marvel Comics is 80 this year, and they're celebrating with a special one-shot that will include 80 different creative teams across 80 pages.
Happy anniversary
Celebrating 80 years of publishing is no small accomplishment. Marvel has been through times both great and lean, and yet is still around and pushing new books out the door on a weekly basis.
This year, one of those will be Marvel Comics #1000. This is a one-shot issue, with no connection to anything really, except Marvel's history. So why the "1000" designation? No idea, though it sounds kind of neat nonetheless.
As the Marvel Universe reaches new heights around the globe, MARVEL COMICS #1000 serves as a testament to the world of characters and stories that have captured the hearts of millions of fans – whether they've followed Marvel for years or are just getting started. Anyone will be able to pick up this book and dive right into the Marvel Comics Universe!

Marvel Comics press release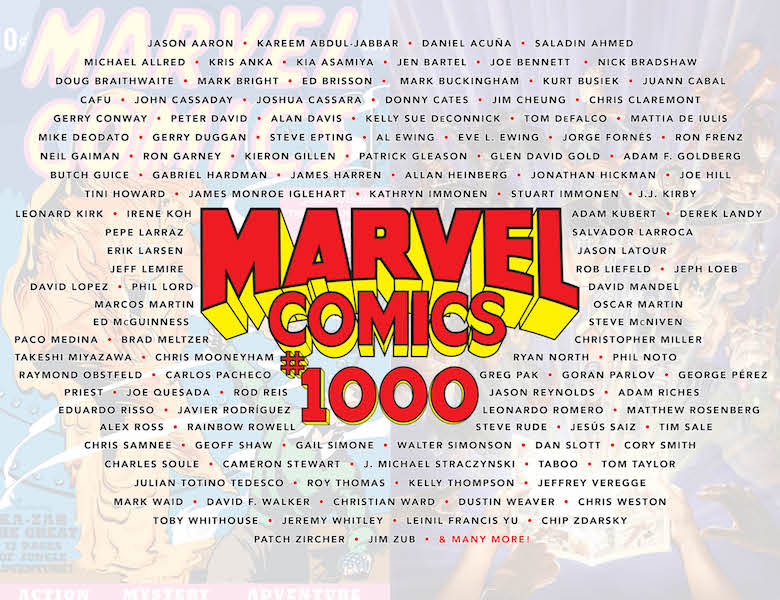 The issue will include 80 pages of story… done via 80 different creative teams. Yes, 80. That's gotta be a first.
But even with all of those hands involved in the creative process, there will be one man crafting and overall narrative. That would be Immortal Hulk scribe Al Ewing.
As he says, this was not an easy book to put together.
"There are so many threads in this mystery, so many different parts of Marvel you'll find secret connections," Ewing told THIS WEEK IN MARVEL. "There are a lot of synchronicities and echoes in this, and threads between all of that."

Al Ewing
No hint as to what all of those "threads" might be leading into. Again though, it seems as though Marvel Comics #1000 isn't really tied into anything happening right now in the Marvel (comics) U. This one's purely standalone.
Grab a copy for yourself, when the book hits stands this August.