What we've got here is a set of crazy collectible quackers from Numskull. It looks like the company might be shooting for a Pop! rivalry.
Quackery
Numskull is probably a name you know from things other than collectibles. A British company, Numskull has been making tees, keychains, and one-off items like their Mortal Kombat candle for some time. And now they're making ducks.
These are no commonplace quackers though. Numskull has seemingly secured a pretty wide swath of licenses for this line of (roundabout) 3.54″ PVC duckies, called TUBBZ. The first few waves will include: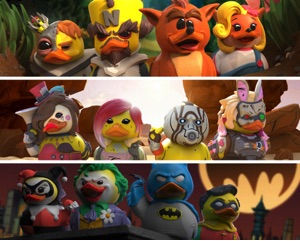 Borderlands (wave 1): Psycho, Lillith, Moxxi, Tina
Fallout: Vault Boy, Vault Girl, T-51 Power Armor, Nuka-Cola Pin Up Girl
Destiny: Cayde, Lord Shaxx, Sweeperbot, Eris Morn
Spyro the Dragon: Spyro, Ripto, Elora, Moneybags
Crash Bandicoot: Crash, Coco, Dr. Neo Cortex, Dr. N. Gin
Street Fighter: Ryu, Ken, Chun-Li, Blanka
The Elder Scrolls V: Skyrim: Dovahkiin, Alduin, Ulfric Stormcloak, Jarl Balgruuf the Greater
Borderlands (wave 2): Brick, Maya, Tyreen Calypso, Troy Calypso
Ghostbusters: Egon, Ray, Venkman, Winston
DC Comics: Batman, Robin, Joker, Harley Quinn
The Lord of the Rings: Frodo, Gandalf the Grey, Sauron, Legolas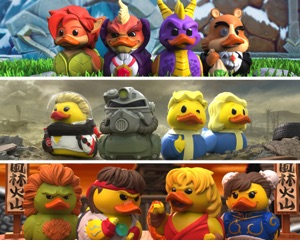 With that, it's kind of impossible not to recall a certain other series' of cartoony figures. Honestly, it's always impressive when a company manages to collect licenses like this. It'll be interesting to see where it goes in the future.
Each figure will include a display box shaped like a bathtub. The tubs will be emblazoned with the logo of the property that the TUBBZ figure belongs to, and you'll be able to stack the boxes too, which is nice considering how many of these things you can rack up as a collector.
Keep an eye out for the TUBBZ some time this fall through winter of 2020. That's the window that Numskull is looking at for launch. Each one will run you $12.99 USD.