Sideshow Toys' Court of the Dead makes the jump from statues to comics in this new graphic novel. If you're into horror or fantasy, there's a good bet you'll dig it.
Death gets a comic
If you're not overly familiar with Court of the Dead, you're forgiven. The property is an exclusive IP of Sideshow, and it doesn't have a terribly large amount of exposition to it.
It's actually a line of statues, with a loose mythology that I believe has had a book seen publication at some point. As far as I now though, that's been it. There's no animated film, no TV show, no movie, no comic.
Well, till now anyway. Now Court does indeed have a comic, a graphic novel called Shadows of the Underworld. And for a first effort from Insight Comics, itself a relatively new publisher, it's pretty great.
Premise
Court of the Dead is a complex world, filled with loads of characters and plots. Seriously, this is Game of Thrones with the undead. Yes, the undead. Court takes place in an underworld. It's a relatively non-denominational underworld, but that's what it is. It's also most definitely it's own thing, and a totally original IP with an established mythos.
Shadows of the Underworld recounts a good deal of this in its storytelling. But it does so along the way, so you'll learn the narrative that Tom Gilland has crafted as you read the writing of Jacob Murray.
As to what that story is, I don't want to spoil too much, but it's pretty cool. I have this thought, as many people probably do, that "undead" wouldn't be afraid of much. Well, meet the dreads grip and the Skaxurn.
A plague of a sort, dreadsgrip turns the underworld's denizens (called mourners) into thralls. The Skaxurn is its (revolting) conduit. Now all of the above has been harnessed and weaponized by an ancient threat reborn, beholden to a demon.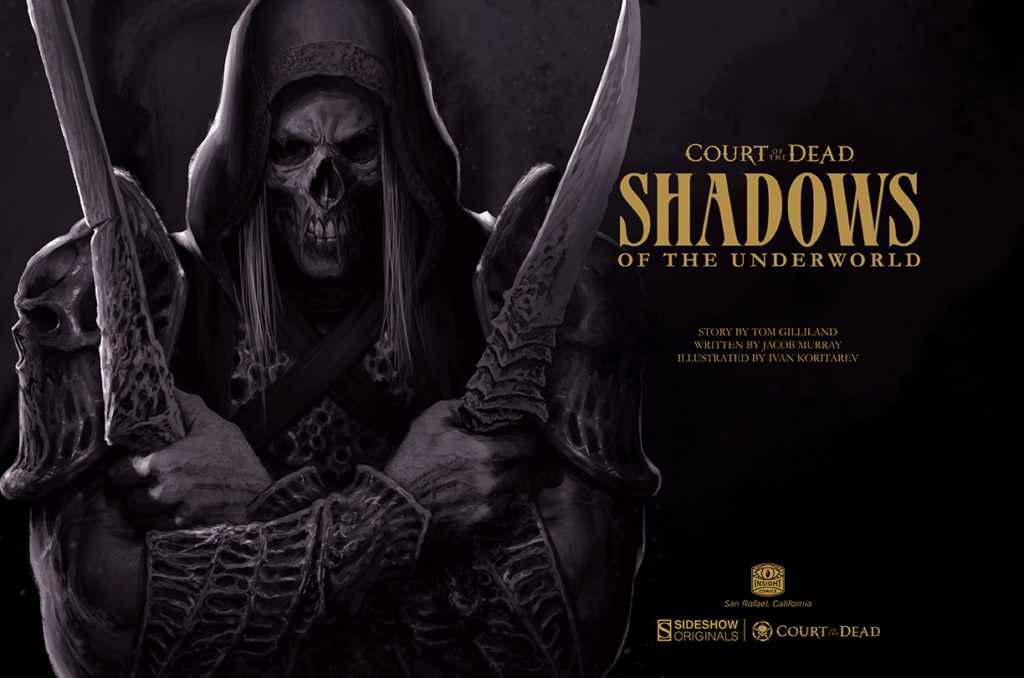 Artwork
The art is striking in Shadows. Penciler Ivan Koritarev isn't a name that you probably know, but I think it's safe to say that you probably will in years to come. His work here is terrific, working off of the art direction of Ricky Lovas.
Maybe even better than his art though, is the color work. The effects throughout are stunning, and really work to give the book an etherial feel. It's a little hard to tell, but it seems as though we have both Koritarev and Georgi Mishkov to thanks for that.
Also worth noting is that there's a special art section at the end of the book. This has a few pages of design and concept art, and is most welcome. The designs in Shadows of the Underworld are pretty awesome, and it's cool to see some of the early work that went into it.
It is a little too brief for my tastes though. We only get a total of 4 pages of it.
Writing
The story of Shadows of the Underworld comes from Tom Gilliland and Jacob Murray, who also wrote the script. It's cool stuff, following four main characters who represent almost all of the factions in the world of Court of the Dead.
Exraile is an angel cast out of Heaven, that now serves Death himself. Gethsemoni, Xiall, and Kier are queen, judge, and protector of the underworld, with the latter being daughter to both Gethsemoni and Death (called the Alltaker). If you're starting to think that this is a winding story, you're right.
There are multiple relationships and a deep history that's laid out in this tome. That said, some of it is pretty hard to follow. I found myself reading several sections multiple times to try and see if I understood things correctly. I read a lot of comics too, so it's not like I'm not used to the format, it's just that there's a lot to Court of the Dead.
Murray's writing actually had two effects on me. For one thing, it made me a little bit frustrated. As I mentioned, the story is a little tough to follow. But it also made me want to see more about the property itself.
That can only be a good thing, since I had zero interest in Court before I read this volume. So I actually hope there are more graphic novels that I might have missed.
Oh, one more thing – this isn't for kids. I don't know if that was obvious or not from the preceding, but this is a mature story with plenty of blood and gore, tons of monsters, and a few naughty words.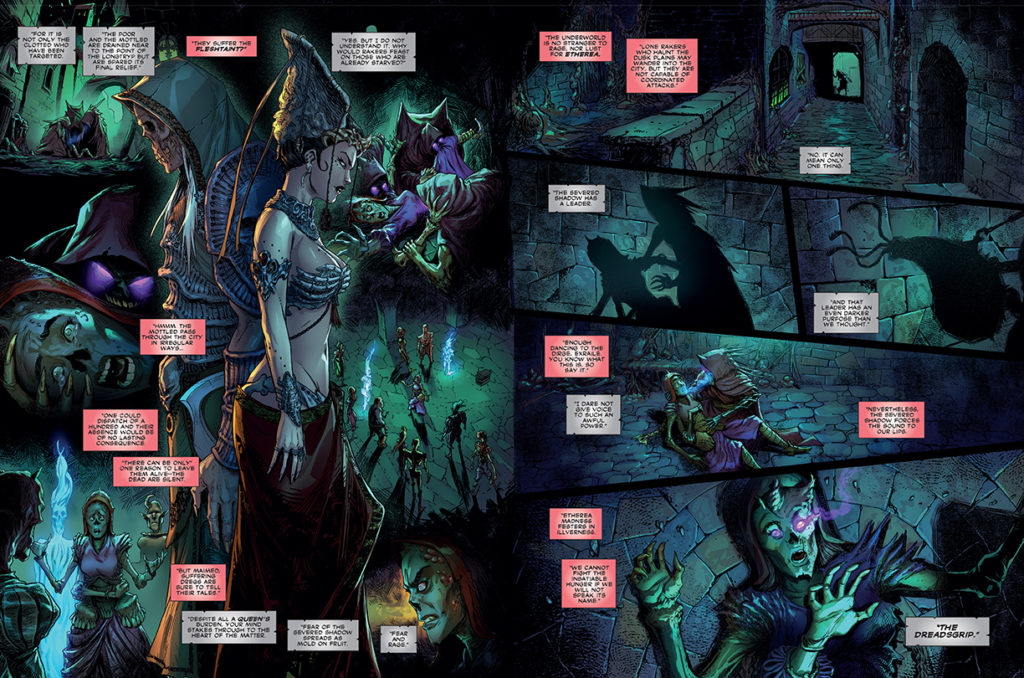 Overall
I have to say that I dug this one. The story is cool, though almost a little too involved, and the art/coloring is divine. The whole thing has a great, macabre vibe to it, and feels like well-established mythos. That's not an easy thing to accomplish for something as new as Court of the Dead.
A review copy was supplied to BrutalGamer by Insight Comics
Court of the Dead: Shadows of the Underworld
Release date: February 12th, 2019
Published by: Insight Comics
Written by: Jacob Murray
Illustrated by: Ivan Koritarev
Format: Hardcover graphic novel
MSRP: $29.99 USD
Premise - 86%
Artwork - 93%
Writing - 82%
It might not be the best introduction to Sideshow's Court of the Dead, but Shadows of the Underworld is a terrific read overall. The artwork is solid, the coloring is flat-out great, and the story is really cool and creepy. The one knock that I'd give it is that it talks about events and things as though the reader knows them well at times, and I had no idea what they were talking about. Other than that though, this is a good one to add to any horror or fantasy fan's library.