Another great looking side-scroller from Steel Mantis, Valfaris is bringing a gory, heavy metal-soaked romp to consoles and the PC next year.
Space metal
Look familiar? It might since the same team that was behind Slain: Back from Hell is behind this new metallic blast-a-thon. It's got all the same highlights as that medieval-themed title, namely a whole lot of blood and gore, and metal tunes.
Of course, this new game is also a 2D, classically styled platformer. Running and gunning, you'll fight your way through a castle (in space).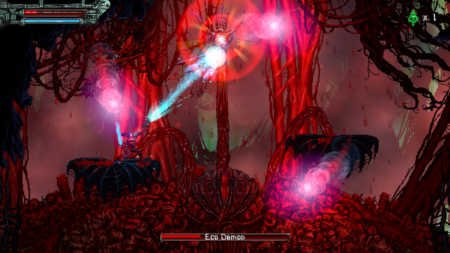 After mysteriously vanishing from galactic charts, the fortress of Valfaris has suddenly reappeared in the orbit of a dying sun. Once a self-contained paradise, the grandiose citadel now plays host to an ever-growing darkness. Therion, a fearless and proud son of Valfaris, returns to his home to uncover the truth of its doomed fate and to challenge the arcane evil at its very heart.
I'll be honest, I'm kind of sold already. I'm playing through the Switch version of Slain right now and loving it. Yes, it's tough as nails, but it's plenty of old school fun and looks awesome. If Valfaris is more of the same with guns, I'm down.
Like it's spiritual predecessor, it's coming to the Switch too. Valfaris will blast onto Nintendo's latest console, the Xbox One, the PS4, and PC some time in 2019.