Have you been enjoying the latest Star Trek revival, Discovery? Then you'll be happy to see that the show and property that it's based on will be making a splash at SDCC.
Discovery
As a massive TNG and DS9 fan, I have to admit that I haven't seen an episode of Discovery. Part of that is that I just can't seem to get behind the new vision of the Klingons (though I hear there's a reason). The other part? Honestly, it's not on any streaming service that I subscribe to. I'm sure that'll change eventually, and at that point I'll be more than happy to give the show a go.
Unlike me though, there are plenty of other fans who've gone all in, and have been watching season one of Discovery. Mostly, I've heard some good things, so I assume there's a solid fanbase there. And that base should be pleased as punch that Discovery will be present in Comic Con in a big way.
For starters, there's the panel
Over 50 years ago, the world was first introduced to what would quickly become a cultural phenomenon. "Star Trek" inspired developments in science and technology, broke social barriers, and transported viewers around the globe to new adventures and uncharted frontiers. Last fall, STAR TREK: DISCOVERY continued that tradition and followed the voyages of Starfleet aboard the U.S.S. Discovery. Join the cast and producers of this CBS All Access series to look back on season one and find out where the crew is headed as it transports into its second season.

Cast members scheduled to appear include Sonequa Martin-Green, Doug Jones, Shazad Latif, Mary Wiseman, Anthony Rapp, Wilson Cruz, Mary Chieffo and Anson Mount, alongside executive producers Alex Kurtzman and Heather Kadin. The panel will be moderated by series guest star Tig Notaro, who will appear as Chief Engineer Reno. Friday, July 20, 1:30 PM; Hall H.

Then, there's the art installation
"STAR TREK: DISCOVERY" MIRROR UNIVERSE GALLERY TAKEOVER
CBS is creating a fully immersive STAR TREK: DISCOVERY Mirror Universe experience at the Michael J. Wolf Fine Arts Gallery (363 Fifth Avenue, San Diego); Comic-Con badges are not required for entry. The exhibit, scheduled to run from Thursday, July 19 through Sunday, July 22, features a photo opportunity with Emperor Georgiou's Throne and showcases props and costumes from the series' Terran Empire. The gallery will also house an official "Star Trek" shop with Comic-Con exclusives.
Exhibit Hours:
Thursday
11:00 AM to 9:00 PM
Friday
11:00 AM to 9:00 PM
Saturday
11:00 AM to 9:00 PM
Sunday
11:00 AM to 5:00 PM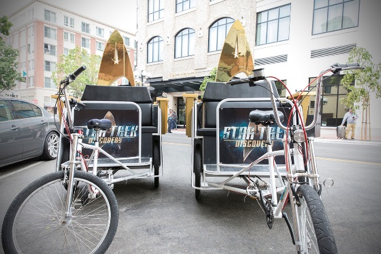 And if all that's still not enough for you, well there's even more. You'll also be happy to know that you can ride around in some Star Trek themed pedicabs while in town.
From Thursday (the first full day of the Con) through Sunday, you'll be able to grab a free ride, courtesy of Trek. These pedicabs will run through the Gaslamp Quarter, which is the area surrounding the convention center, ad are shockingly high-tech.
The seats are made to mimic the command chair on the Discovery, and have huge Trek logos mounted on the back. What's so "high tech"? That'd be the video monitor built into the armrest. Cool stuff, and again, free. Well, if you can catch one that is.