Darksiders III has been a long time coming, but Fury and company are almost here. The game in all its variations will hit consoles and the PC in November.
Furious
As a big fan of Darksiders in general, I've been waiting not-so patiently for this one. The series has been great through its first two installments, and the third game is looking pretty nice so far as well. Granted, we haven't seen much of it, and as our Xbox editor Rick pointed out to me, it wasn't at E3 either. That's a little disconcerting.
With the game due on November 27th though, I'd imagine we'll be seeing way more of it pretty soon. While we might not be seeing many screens or trailers, one thing we are seeing right now is a detailed look at the two special editions.
Both are impressive, though one is way more so. Both are expensive too, with that latter edition being pricier than a new gaming console. The two special editions will hit the same day as the base game, though of course, they'll probably be a little harder to get ahold of.
Here's a look inside:
Darksiders III Collector's Edition (USD/EUR 149.99, GBP 129.99):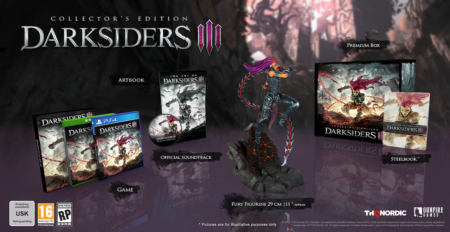 Premium Box
Fury Figurine about 29cm – 11″ high
Original Steelbook
Artbook
Soundtrack
Darksiders III Game
Exclusive Armor DLC; completely original skin replacing Fury's base armor set (purely aesthetic, no gameplay impact)
Darksiders III Apocalypse Edition (USD/EUR 399.99, GBP 349.99):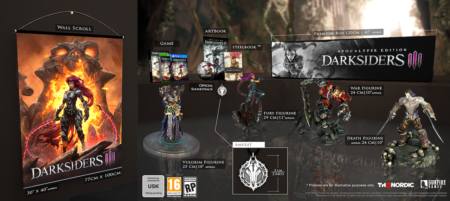 Premium Box ~117cm – 46″
Wall Scroll – Fabric print with hanger 77 x 100 – 30″ x 40″
4 Figurines: Fury (~29cm 11" high), Vulgrim, War, Death (each about 25cm 10″high)
Heavy weight amulet 5cm – 2″ with necklace
Original Steelbook
Artbook
Soundtrack
Darksiders III Game
Exclusive Armor DLC; completely original skin replacing Fury's base armor set (purely aesthetic, no gameplay impact)