Conan is returning to Marvel Comics, and his classic adventures are too. Marvel is prepping a loaded Conan Omnibus for this January.
CROM!!!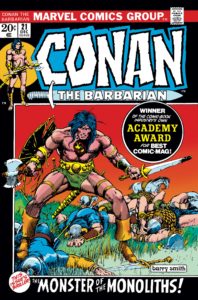 Not seen since the simpler times of the 1970s, Conan's classic Marvel Comics adaptions are returning to the printed page. The comics will see re-publication in collected form, in the pages of a mighty Conan Omnibus. What it won't have though, is everything that Marvel has published. This one stars a series of hand picked runs and issues.
From Roy Thomas and Barry Windsor-Smith, the book will include:
CONAN THE BARBARIAN #1-26 from 1970-1973
1971's SAVAGE TALES #1 and #4
CHAMBER OF DARKNESS #4
CONAN CLASSIC #1-11
No, that's not everything, but there's a "vol.1" included in the title of this book. So chances are that, if this sells well, you can expect more. All of these issues will be restored too, remastered for the modern age.
Watch for Conan the Barbarian: The Original Marvel Years Omnibus Vol. 1 this January.