Making a lasting impression on fans, Batman Beyond is still pretty popular, and is even a part of official DC canon. And now he's also a One:12 Collective figure.
Beyond!
Originally debuting as a DC animated show in the 1990s, Batman Beyond has grown. The property had no ties to the DCU in any way at first, though it definitely does now. As with some elements of Batman: The Animated Series, Batman Beyond has been adopted into DC's comics universe in a few ways. And there's even a book out there on the stands right now.
Since the character is only gaining in popularity, it makes perfect sense that Mezco would look to include him in the One:12 Collective. The new figure keeps in line with the rest of the series, including top notch articulation and some awesome looking accessories.
Terry McGinnis' version of the Dark Knight includes flames for his boot jets, his signature red wings, and of course those awesome batarangs. He's available for pre-order right now, and will be shipping out between August and September of this year, and will cost you $85 USD.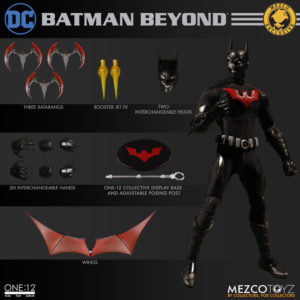 Here's what is included:
THE ONE:12 COLLECTIVE BATMAN BEYOND FIGURE FEATURES:
One:12 Collective body with over 28 points of articulation
Two (2) head portraits
Hand painted authentic detailing
Approximately 17cm tall
Six (6) interchangeable hands

One (1) pair of fists (L&R)
One (1) pair of batarang holding hands (L&R)
One (1) pair of posing hands (L&R)
COSTUME:
3D chest insignia
Fitted tech-suit with body armor detail
Retracting claw gloves
Utility belt
Stealth boots with flight rockets
ACCESSORIES:
One (1) backpack
One (1) backpack with deployed wings
Two (2) booster jet FX
Three (3) batarangs